Garmin's new Descent Mk3 series dive computers have 200-meter dive ratings, bright AMOLED displays and a built-in flashlight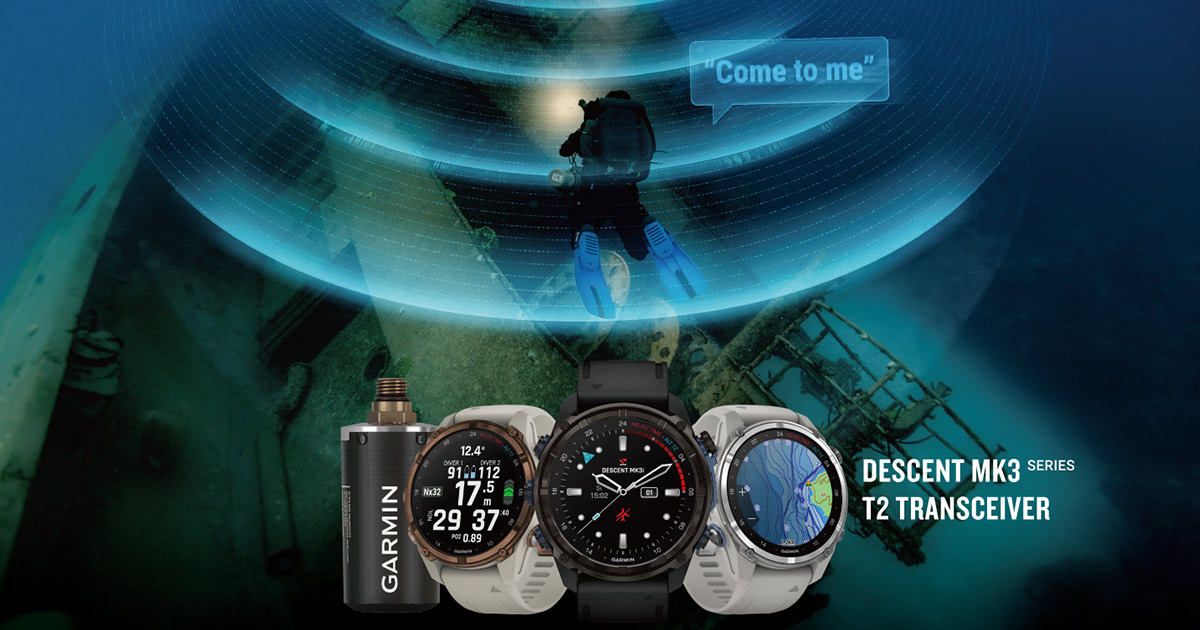 Pair Descent Mk3i with the new Descent T2 transceiver for diver communication, Diver Assistance and tank pressure monitoring
Malaysia, 15 November 2023 – Garmin Malaysia today announced the Descent Mk3 series watch-style dive computers and Descent T2 transceiver with enhanced SubWave sonar technology that – through a soon-to-be-released software update – will add diver-to-diver messaging and Diver Assistance1 to tank pressure monitoring. Purpose-built with a dive-first approach to design, the Descent Mk3 series comes in two sizes – 43mm and 51mm – with air integration options on both and feature a vibrant touchscreen AMOLED display, a 200-meter dive-rated case with metal leakproof buttons that are fully operational at that depth, and up to 48 hours of battery life in dive mode2. The 51mm Descent Mk3i also comes with a built-in LED flashlight for greater visibility in low-light conditions—even underwater. With tools like multiple dive modes, DiveView maps and dive readiness score, plus Garmin's suite of health, fitness and connected features, the Descent Mk3 series helps divers make the most of their adventures above and below the surface.
"From recreational to technical and every dive in between, the Descent Mk3 series and Descent T2 transceiver add innovative new features to help you explore deeper waters. One of those being enhancements to our SubWave sonar technology, which now makes it possible to communicate with other divers and even request assistance from nearby divers when help is needed—right from the wrist. This, coupled with air integration, DiveView maps and dive readiness tools help make these premium dive computers an essential part of your dive kit." – Mr. Scoppen Lin, Assistant General Manager, Garmin Asia

Explore the depths – confidently and safely
New advancements on the Descent Mk3 series make it possible to dive with greater peace of mind.
Diver Assistance (coming soon): If a diver is in need of help, this revolutionary tool will let them request assistance right from their watch thanks to enhanced SubWave sonar technology. When using a Descent Mk3i dive computer and Descent T2 transceiver, divers will be able to send out an assistance alert to other connected divers. Nearby connected divers will then be able to see the diver's depth and distance and monitor them until assistance is no longer required.
Diver-to-diver messaging (coming soon): Using SubWave technology, divers with a Descent Mk3i and Descent T2 transceiver will be able to exchange preset messages with other connected divers, up to 30 meters away3.
Dive group tracking: Using air integration, keep track of where other divers are in the group. See depth and tank pressure of up to eight divers who are using a Descent T2 transceiver, up to 10 meters away.
Dive-focused design: A 200-meter dive-rated case with a strong, scratch resistant sapphire lens operates at twice the depth of the previous generations and features metal buttons that are leakproof and fully functional at 200 meters. Plus, a bright touchscreen AMOLED display provides greater visibility—even underwater.
Built-in LED flashlight: Available on the 51mm Descent Mk3i, an integrated LED flashlight with built-in strobe mode gives divers greater visibility in low-light conditions, above or below the water.
Dive readiness: See how lifestyle factors like sleep, exercise, stress and jet lag can affect the body's overall preparedness to dive. A higher readiness score may suggest it's time to dive in while a lower score may be reason to consider using a higher conservatism setting or choose an easier dive.
Dive in
Designed by divers for divers, the Descent Mk3 series is ready for the next excursion with dive modes for single and multiple gas dives (including nitrox and trimix), gauge, apnea, apnea hunt and closed-circuit rebreather. Divers can customize additional data screens for each dive mode or choose a simplified dive screen with larger text to make it easier to see critical diving data. New DiveView maps offer bathymetric depth contours and more than 4,000 preloaded dive sites worldwide to help locate specific sites like shipwrecks, identify hotspots for spearfishing and more. Built-in sensors – like an altimeter, barometer, compass and even an underwater compass – help navigate a dive and surface GPS helps track entry and exit points on the surface. Divers can also use the variometer tool to monitor their freedive descent and ascent rates through tone and vibration feedback. Before diving in, users can check nearby tide conditions from their watch4 and use the reference point tool for surface navigation to a target dive site. Following a dive, the dive log lets users review data, track gear, take notes and share details via the Garmin Dive smartphone app.
Beyond the dive
Doubling as a premium multisport GPS smartwatch, the Descent Mk3 series includes dozens of preloaded activity profiles for trail running, swimming, hiking, golfing and more so users can track the ways they move. Premium fitness features5 like VO2 max, daily suggested workouts for running and cycling, endurance score and hill score can help users stay fit for their next dive while wellness insights like sleep monitoring, sleep score, Pulse Ox and Jet Lag Adviser can help users understand their body better.
Whether out exploring a new destination, or staying closer to home, the Descent Mk3 series has navigation and orientation features to help every step of the way. Preloaded TopoActive maps from around the world can help keep explorations on track while SatIQ technology can help provide superior positioning accuracy with multi-band GPS while optimizing battery life. Create or find existing courses in the Garmin Connect app and get turn-by-turn directions right from the watch, or enter a desired distance and get round-trip route suggestions that use TrendLine routing to find the best local paths.
Packed with connected features, the Descent Mk3 series lets divers: receive smart notifications; download songs from Spotify, Deezer or Amazon Music (premium subscription required) for phone-free listening; workout with greater peace of mind with incident detection and assistance; and more.
Available from end of December 2023, the 43mm Descent Mk3 has a suggested retail price of RM6,220 while the 43mm Descent Mk3i with added air integration, diver messaging capabilities in Carbon Gray or French Gray options is RM7,250. For those looking for air integration, diver messaging capabilities and a larger display, the 51mm Descent Mk3i is offered with a Carbon Gray DLC titanium bezel and black silicone band for RM8,280. The Descent T2 transmitter has a suggested retail price of RM2,590. The Descent Mk3 series will be available on Shopee, Lazada, AECO e-store, Garmin Brand Stores and selected authorised retailers.
Engineered on the inside for life on the outside, Garmin products have revolutionized life for adventurers, athletes, off-road explorers, road warriors and outdoor enthusiasts everywhere. Committed to developing products that enhance experiences, enrich lives and help provide peace of mind, Garmin believes every day is an opportunity to innovate and a chance to beat yesterday. For more information, visit Garmin's virtual pressroom at garmin.com.my/news/pressroom/, or follow us at facebook.com/GarminMalaysia, instagram.com/GarminMalaysia, youtube.com/GarminMalaysiaAsia.
or follow our adventures at Garmin Malaysia Blog.
1 Coming soon via software update. Diver messaging and Diver Assistance require line of sight between two compatible receivers with the same software version. These supplemental features should not be relied upon as a method to receive emergency assistance and do not replace traditional dive safety tools and procedures.
2 Battery life estimate is for the 51mm Descent Mk3i
3 Data successfully sent between divers using this feature may take up to 45 seconds to send
4 When paired with a compatible smartphone; see Garmin.com/ble.
5 Activity tracking accuracy
Go to 【Press Release List】