Garmin unveils the Descent G1 Solar – Ocean Edition dive computer, its first-ever product made with recycled ocean-bound plastics
All-in-one dive computer and smartwatch is powered by the sun and includes parts made from recycled plastics that were once destined for the ocean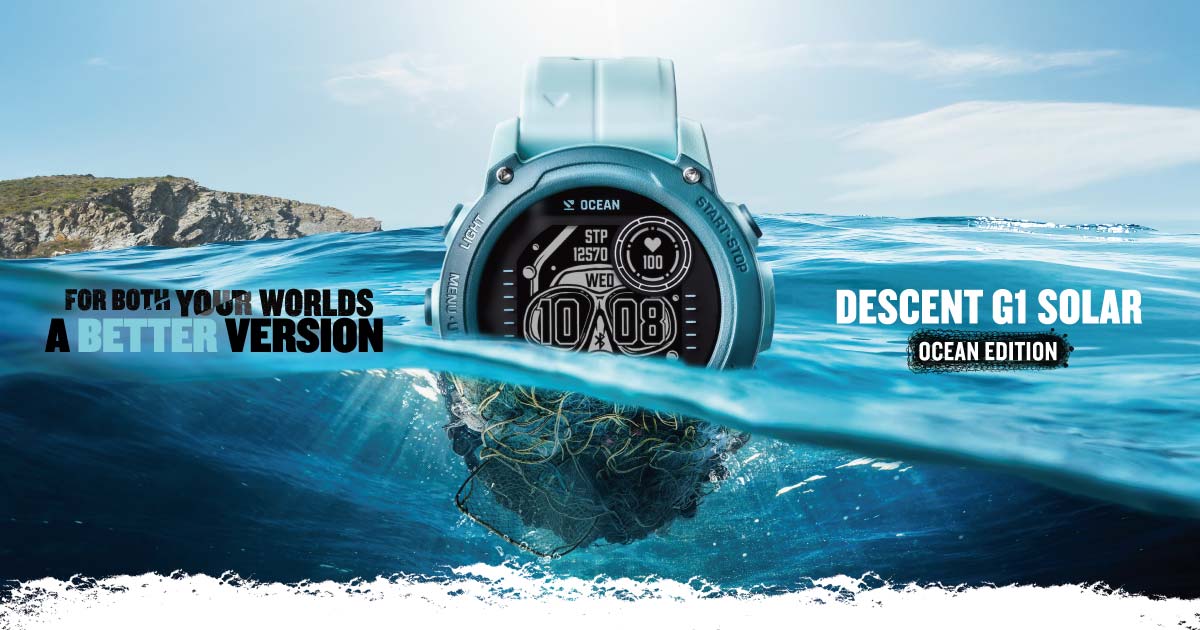 Malaysia, 15 November 2023 – Garmin Malaysia today announced the Descent G1 Solar – Ocean Edition, a rugged watch-style dive computer with features for both underwater and topside adventures. Designed with environmental responsibility in mind, 100 percent of the plastic used to make the watch's housing, bezel and buttons come from recycled ocean-bound plastics. In addition to its eco-friendly construction, Descent G1 Solar – Ocean Edition features a solar charging lens that lets divers explore longer with up to 25 hours of battery life in dive mode and up to 124 days in smartwatch mode when solar charging1. Eliminating the need for a separate dive computer and smartwatch, the Ocean Edition includes Garmin's popular dive features to help users make the most of their diving experience – plus multisport and smart features for an active lifestyle out of the water.
"We are proud to unveil our first-ever product with parts made from recycled ocean-bound plastics. With the Descent G1 Solar – Ocean Edition, we're taking materials that were once at risk of harming the ocean habitat and turning them into parts to help create an eco-friendly dive computer that's made to explore it." – Mr. Scoppen Lin, Assistant General Manager, Garmin Asia.
Making an impact through design
The idea for the Descent G1 Solar – Ocean Edition started as a brainstorming session between Garmin associates.
"Our associates spend a lot of time pursuing their passions – fishing, diving, surfing and more – in oceans around the world. Some also dedicate their personal time to cleaning up areas around the water and in doing so, started to think of ways to repurpose the plastic materials that are often bound for the ocean. After a lot of conceptualizing and researching, the idea became clear: a watch made for exploring oceans that uses recycled materials once destined to end up in it." – added Scoppen.
Once ocean-bound plastic is collected around bodies of water, it is sorted, cleaned and dried. The plastic is then melted into a pelletized resin before being reinforced with glass fiber and sent off to be colored. From here, the material is molded to create the shape of the watch housing, bezel and buttons—then incorporated in a rugged, eco-friendly dive computer designed to help users dive confidently.

For your explorations above and below the water
Incorporating all the popular features of the original Descent G1 Solar, the new Ocean Edition eliminates the need for divers to have both a dive computer and a smartwatch with features made for life on land or underwater.
Get multiple dive modes for single and multiple gas dives (including nitrox and trimix), gauge, apnea, apnea hunt and closed-circuit rebreather.
Track dive entry and exit points on the surface with surface GPS.
Store and review data for up to 200 dives and share via the Garmin Dive app.
Tailor additional data screens for each dive mode.
Easily navigate below the waterline with a built-in 3-axis dive compass.
View nearby tide conditions right from the watch2.
Stay fit for the next dive with more than 30 built-in sports apps, recovery time advisor, training status, daily suggested workouts and all-day respiration tracking.
Focus on mind and body with sleep score and advanced sleep monitoring, wrist-based heart rate, Body Battery energy monitoring and hydration tracking.
Stay connected with smart notifications and incident detection and assistance2.
The Descent G1 Solar – Ocean Edition features a 45mm reinforced polymer case, scratch-resistant sapphire lens and an easy-to-read monochrome display. Water-rated to 100 meters and tested to U.S. military 810 standards for thermal, shock and water resistance, the Ocean Edition is rugged and ready for adventures both above and below the water. Available from end of December 2023 in dark lakeside with an azure blue band color, it has a suggested retail price of RM3,087. Customers can purchase it from Shopee, Lazada, AECO e-store, Garmin Brand Stores and selected authorized retailers.
Engineered on the inside for life on the outside, Garmin products have revolutionized life for adventurers, athletes, off-road explorers, road warriors and outdoor enthusiasts everywhere. Committed to developing products that enhance experiences, enrich lives and help provide peace of mind, Garmin believes every day is an opportunity to innovate and a chance to beat yesterday. For more information on Garmin's ESG achievements, visit our sustainability page and more information on Garmin's virtual pressroom at garmin.com.my/news/pressroom/. Do visit our social pages at facebook.com/GarminMalaysia, instagram.com/GarminMalaysia, youtube.com/GarminMalaysiaAsia. or follow our adventures at Garmin Malaysia Blog.
1Assuming all-day wear with 3 hours per day outside in 50,000 lux conditions
2When paired with a compatible smartphone; see Garmin.com/ble.
Go to 【Press Release List】