Update on 2013/03/13
Lorong Halus Wetlands Park (2hr)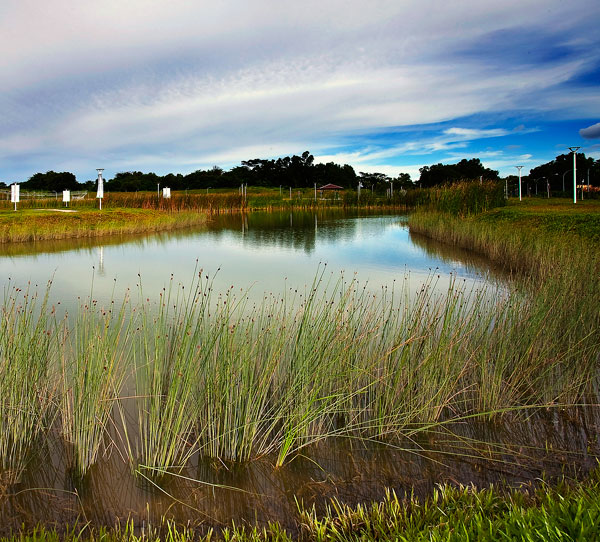 more >>
Relocating Life in the Wetlands
Lorong Halus Wetland Park bridges man-made waterfront recreation to nature. From 2007, this landfill site became a haven for birds, flora, fauna and other wildlife. Follow the walking trail and sneak a peek into wildlife habitats and the wetland system. Read Info-boards, brimming with educational tidbits about the natural inhabitants.
Open 24 Hours, daily

Free Admission

Lorong Halus, Pasir Ris, 536575 (+65-62216666)
Pasir Ris Park (2hr)
more >>
Creating Diversity within an Ecosystem
The Pasir Ris Park encloses Singapore's largest playground, a mangrove swamp and more on 71 hectares of reclaim land. Weekends see families frequenting the greenery and children playing on 15 metre nets. Aside from sporting activities, visitors will be charmed with bird-watching spots and heritage trails of the mangrove swamp!
Open 24 Hours, daily

Free Admission

Stretches from Pasir Ris Road to Jalan Loyang Besar, 519599 (+65-1800-4717300 National Parks Board))
Tampines Eco Green (2hr)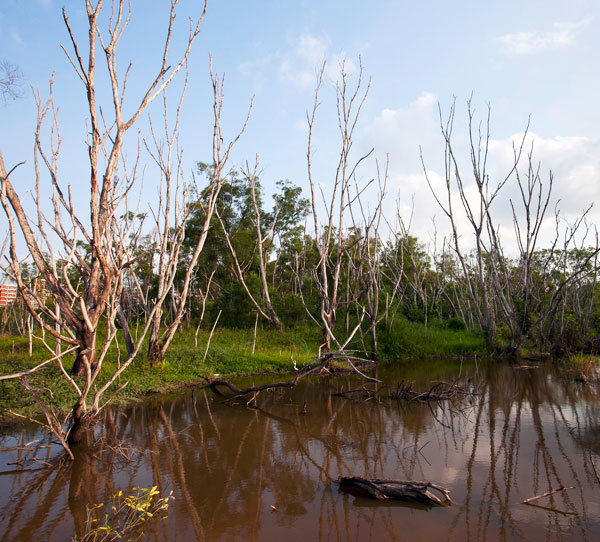 more >>
Inventing Nature in the Urban Reserve
Tampines Eco-Green Park is home to Singapore's first eco-friendly toilet, where human waste gets chemically converted into biological fertilizers daily. Otherwise, activity lovers can navigate the Tampines Mountain Bike Trail or sit on uniquely recycled benches and tables, while being charmed by a varied species of wildlife residing within rainforests.
Open 24 Hours (no lighting at night), daily

Free Admission

Tampines Avenue 9 and Tampines Avenue 12, Tampines, 520485 (+65-18004717300 National Parks Board HQ)
Dian Xiao Er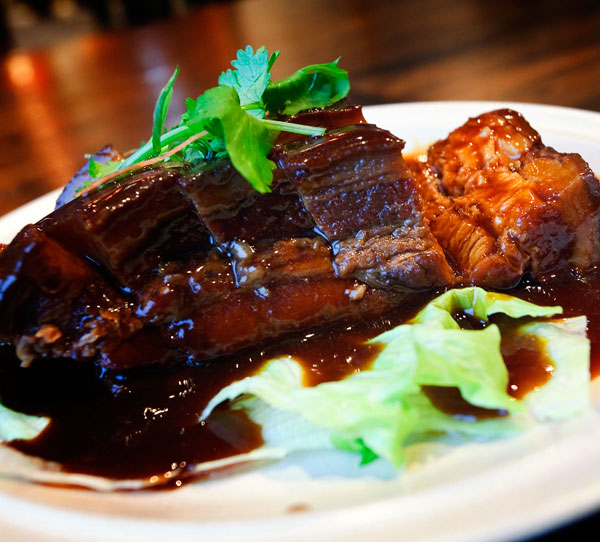 more >>
Ducking towards Fabulous Health
A "Xiao Er" (waiter) once combined herbs with a roasted duck to help his bedridden master recover strength. This lucky man made a prompt recovery and the succulent herbal duck became the restaurant's signature. Patrons can savour this and quaint cuisines such as the Emerald Tofu or the Deep Fried Kai Lan.
11:30-15:30, daily

Set Menu for 2 pax ($38++)

#04-07/08 Tampines One, 10 Tampines Central 1, Tampines East, 529536 (+65-67836068)
Al Mahboob Indian Rojak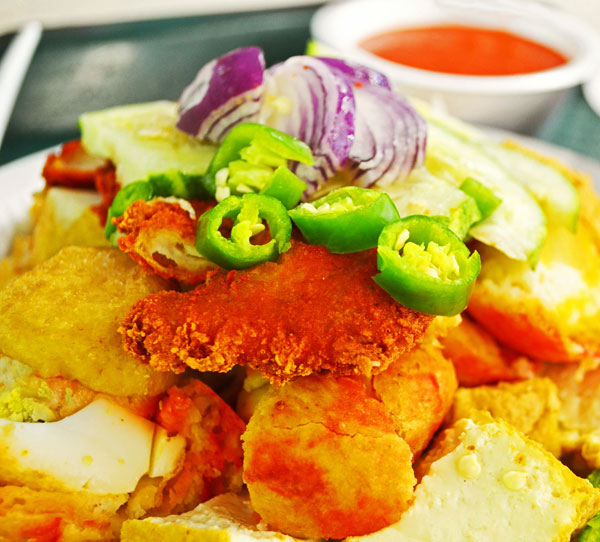 more >>
Indian Salad A-Wait-In
Al Mahboob's customers are prepared for a wait before feasting on this delightful Rojak. The queues testify to this widely favoured local delight. Every piece of ingredient is meticulously refried, diced and served with a generous portion of the hot peanut gravy dip. Dine on the common fried potato dough, or the uniquely cured spicy squid.
12:30-21:00, daily

Mee Goreng (SGD 3.50)

506 Tampines Central 1, S11 Food Court, Tampines East, 520506 (+65-67882257, +65-91322080)
Tampines New Town (2hr)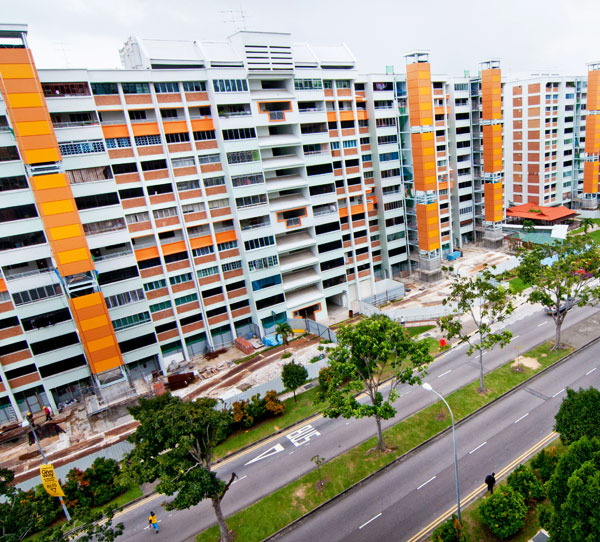 more >>
Honouring the Most Cosmopolitan Suburb
Tampines New Town is the largest residential area east of Singapore. Former a forest, with sand quarries and Ironwood trees (also known as tempinis), this town transited into a cosmopolitan suburb of shopping malls and greenery. This model town is recipient to the World Habitat Award from the UN's Building and Social Housing Foundation (BSHF).
Open 24 Hours, daily

Free Admission

Tampines Central, Tampines, 520512 (+65-18007362000 Singapore Tourism)
NEWater Visitor Centre (1hr)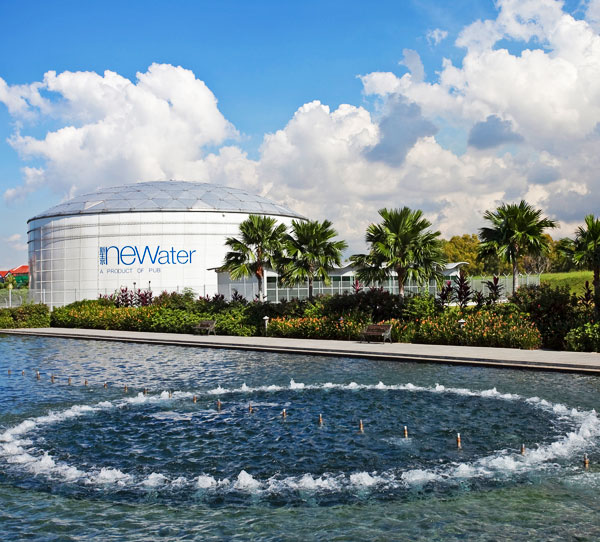 more >>
Deliciously Fresh from our Waste
Despite being branded as recycled water, the NEWater Visitor Centre is an avenue of education on recycled water and water sustainability. Witness how water is processed using microfiltration, reverse osmosis, then ultraviolet disinfection, ensuring clean and ready-to-drink recycled water.
09:00-16:00 Tue-Sun, close on Mon

Free Admission (reservation recommended)

20 Koh Sek Lim Road, Simei, 486593 (+65-65467874)
Kong Hiap Memorial Museum (2hr)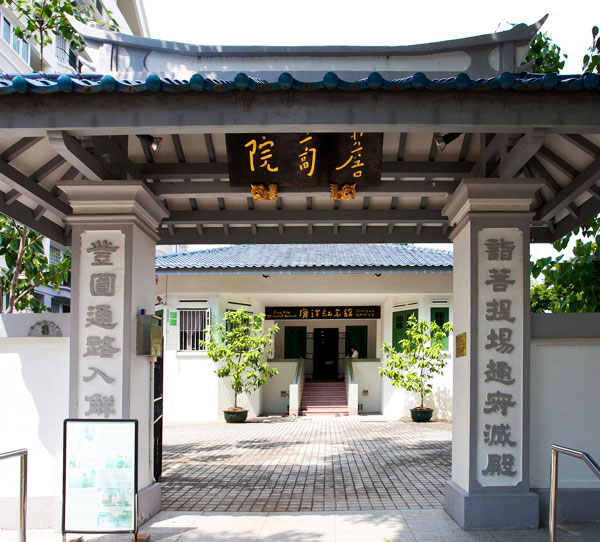 more >>
Ancient Manifestation in Modern Times
With its variety of religious artifacts, the Kong Hiap Memorial Museum is the first of its kind in Southeast Asia. Visitors are treated to interactive activities studying historical values of religion and culture. Showcasing the prized collection of the late Venerable Kong Hiap, the museum has over 200 installations that guarantee a feast for the eyes!
10:00-17:00 Sat, Sun and every 1st and 8th day of the Lunar Month

Free Admission

8 Geylang East Avenue 1, Geylang, 389780 (+65-68467491)
Hajjah Mona Nasi Padang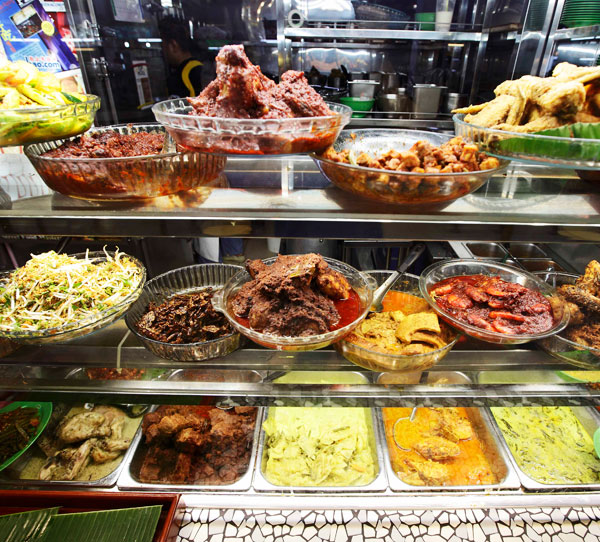 more >>
Innumerable Delicacies within a Stall
With a history of 30 years, located within Geylang Serai Malay Market, Hajjah Mona Nasi Padang offers authentic Nasi Padang (Malay Rice) daily. This stall faithfully serves a myriad of traditional dishes, always on fragrant banana leaves. Sample the Urap, a crunchy bean sprout salad, or Opor Ayam Bakar, barbecued chicken in coconut gravy.
07:00-18:00, close on Wed, Hari Raya Haji and Hari Raya Puasa

Nasi Rawan (SGD 3.50), Nasi Jenganan (SGD 3.50)

1 Geylang Serai, #01-166 Geylang Serai Market, Geylang, 402001 (+65-85119011)
Sin Huat Eating House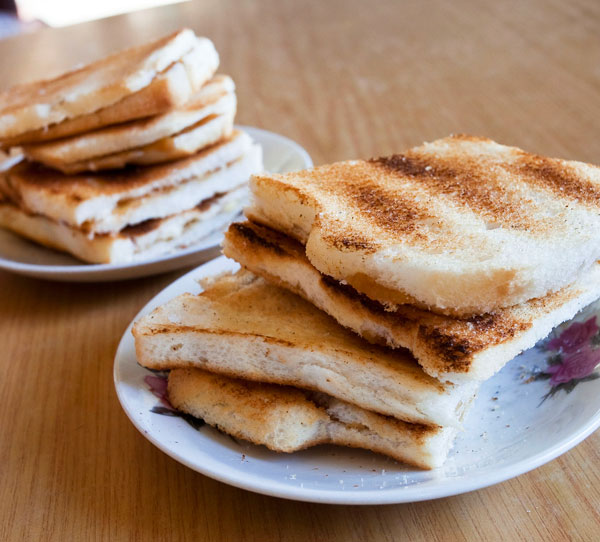 more >>
Dawning to a Hearty Meal
Sin Huat is an austere local eatery patronized by the working crowd. This eating house has garnered a strong following of traditional foodies, who indulge in breakfast from early morning. Do as the locals do, dip your toast into wobbly and lightly peppered soft-boiled eggs. Finish your breakfast with the always fresh coffee!
11:00-18:00, daily

Coffee, toast and eggs ($4.00 a set)

659/661 Geylang Road, Lorong 35, Geylang, 389589 (+65-67449755)