Update on 2012/11/07
Bukit Merah Laketown Resort (0.5-1hr)

more >>
Love for Sun, Water, Crazy Rides!

If you can't get enough of the resort, be smart and purchase the Laketown Waterpark Splashdown Pass to swim and ride for one year at RM100 only.
Fronting 7000 acres of lake, any of the 14 rides at the Waterpark will get you refreshed and sexily tanned. There's whizzing Water Speed Rides and leisurely ones like Beachfront Wave Pool or Lazy River to float idly. Or challenge the Boomerang; the first of its kind in Malaysia.
Waterpark:12:00-19:00 Mon-Fri (10:00-19:00 weekend and holidays)

Waterpark: Adult (RM29.00), Child (RM25.00)

Jalan Bukit Merah, Semanggol, Perak (+605-8908888)
Orang Utan Island (1hr)

more >>
Meet Em' Jungle Creatures!
Different experiences as you are put in the cage to meet Orang Utans while the endangered animal roams freely here. This center also facilitates breeding of these primates and carries out research and conservation efforts. You will take a ferry from Marina Village that departs every 45 minutes.
09:00-17:00 (ferry trip: every 45 min), daily

Adult (RM28.00), Child (RM25.00)

Jalan Bukit Merah, Semanggol, Perak (+605-8908888)
Chair Lift Ride (1hr)

more >>
Let's Go For An 'Up' Thrill!
The 600-meter ride takes you above the park and brings you the best scenes of Bukit Merah Lake. Currently, it is the only one found in the country and makes for a perfect winding down from all the water rides that gave you a rush in the head.
12:00-17:00 (weekend and holidays 10:00-19:00), close on Tue

Adult & Children (RM7.00)

Jalan Bukit Merah, Semanggol, Perak (+605-8908888)
Kok Beng Chicken Rice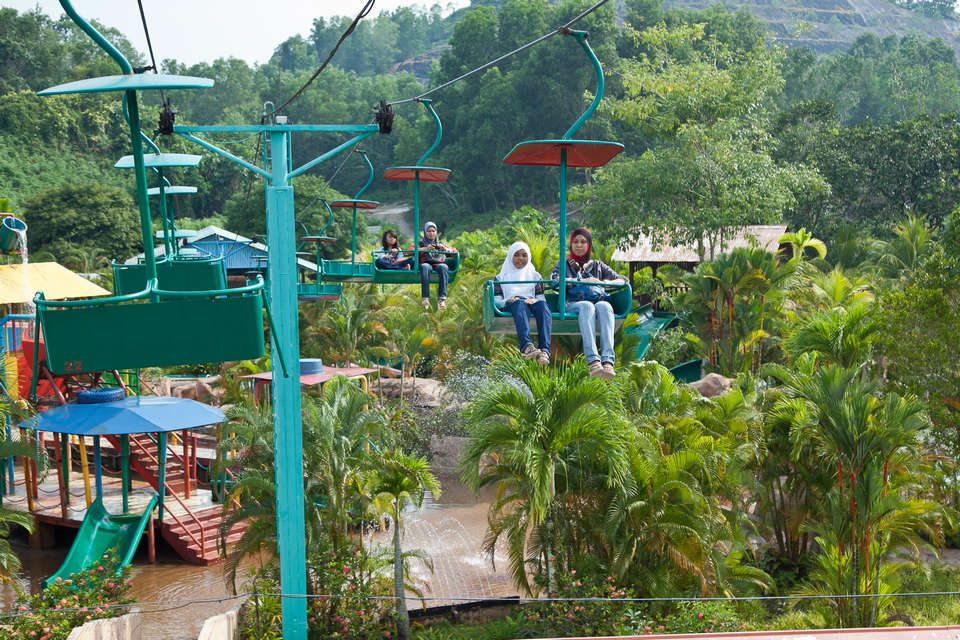 more >>
Simple Goodness for Lunch

The BBQ pork (char siew) of Kok Beng Chicken Rice is also a star in its own right, sweet and caramel-like tender pieces of meat.
Undoubtedly, this is Taiping's chicken rice king, selling out his offerings within half a day. The roasted chicken is succulent with a fragrant golden brown skin whilst the steamed version is smooth. A perfect blend of soy sauce is drizzled over whilst the chili dip packs a nice punch.
11:00-15:00, close on alternate Mon

Chicken Rice (RM3.00++)

38 Jalan Kota, Taiping, Perak (+6012-5056697, +6012-5226697)
Restoran Kakak

more >>
Favorite of Taiping Folks
The daily buzz is alive at Kakak's as hungry patrons slurp chicken rice noodle in a clear broth studded with chicken strips and bean sprouts. It pairs with the braised chicken feet. Also try 'yong tau foo'- vegetables and bean curd stuffed with fish paste. Interestingly, coffee is mixed with soymilk.
06:00-13:00, close on Mon

Koay Teow Soup, Braised Chicken Feet

111, Jalan Pasar, Taiping, Perak (+605-6834057 Perak Tourism)
Biskut Tupai Emas

more >>
A Flaky, Crumbly, Sweet Treat
This brand has been around for a long time, testament to its tastiness. Buy some as souvenirs as these biscuits made filled with sticky molasses, encased in a pastry of numerous layers so flaky and light. The molasses may not be enough for those with a sweet tooth though.
09:00-18:00, daily

Heong Peng, Kaya Puff, Green Bean Biscuit

79, Lorong 5, Kg. Larut Tin, Off Taman Sungai Mas, Taiping, Perak (+605-8482301, +6012-4623190)
P.S.L. Goreng Pisang

more >>
It's Time For Tea And Snacks!
P.S.L. has grown leaps since its days of selling fried bananas by the roadside. Today, it has an entire shop lot churning out the lovely morsels. Crunchy and light batter enveloping warm banana, savory curry puffs, fluffy yam slices and crispy spring rolls are scrumptious with a cold drink.
12:00-20:00, daily

Goreng Pisang (RM1.00++)

85 Jalan Pasar, Taiping, Perak (+6016-5161818)
Taiping Clock Tower (Tourist Info Center) (0.5-1hr)

more >>
Back In Time To 1881
That's how long the clock tower has existed; in fact it was the first clock tower in Malaysia and functioned as the town's police station and fire brigade from 1908 to 1950. It was recently refurbished as the tourist information center with old pictures of the town on display.
10:00-13:00, 14:15-18:30, daily

Free Admission

Jalan Kota, Taiping, Perak (+605-8053245)
Taiping Old Mosque (Masjid Lama) (1hr)

more >>
Architecture of Yesteryears
Dating to 1897, this mosque features a six-sided façade and a brick wall enclosure. It is interesting to note that it does not have the typical dome with intricate art. Perhaps a basic place of worship was all that was needed. The late Muslim scholar, Sheikh Makhbuli's mausoleum is here.
Outside opens 24 hours, daily

Free Admission (only outside)

Junction of Jalan Kota and Jalan Masjid, Taiping, Perak (+605-6834057 Perak Tourism)
Pusat Makanan Taman Tasik

more >>
Dinner near the Majestic Lake
Located near Lake Gardens, many stalls offer food to hungry people. Among the highlights include 'chee cheong fun'; flat rice noodles tossed up with sauce of your choice or a soupy option of Pork Noodles with tasty broth and smooth pork bits. Grilled fish is popular, especially the sauce.
Evening till late, daily

Chee Cheong Fun, Pork Meat Noodle, Penang Lor Bak

Jalan Taman Tasik, near Lake Garden (Taman Tasik), Taiping, Perak (+605-6834057 Perak Tourism)
Taiping Sentral (1-1.5hr)

more >>
Time to Unwind and Shop

Sing your heart out at the Just K Family Karaoke or watch movies at the 7-screen cinema at Taiping Sentral.
Taiping's newest mall is where the local folk would hang out after a day's work or during the weekend. With chain restaurants and coffee shop, visitors have a modern spot to chill and sip coffee. International brands are also here and kids can have fun with Kidz World Fun Park.
10:30-22:30, daily

Free Admission

No. 36 Jln. Istana Larut, Taiping, Perak (+605-8099333)