Motorcycle Navigation Adds Adventurous Twist
Glove-friendly, sunlight-readable 4.3-inch touchscreen display; resistant to fuel vapors, UV rays, harsh weather (IPX7)
Bluetooth® for hands-free calling2
Built for Adventure, Born to Ride
Plus a bright, glove-friendly 4.3-inch touchscreen that is easy to read and intuitive to use — zūmo 395 is the navigator "built to thrill."
The Benefits of Hands-free Calling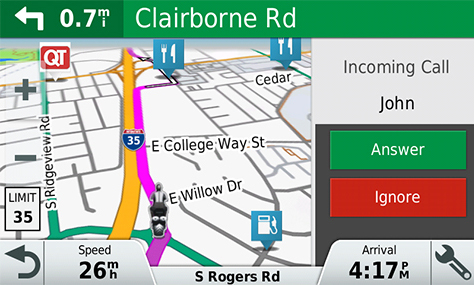 Sync your zūmo with a compatible smartphone2 and a Bluetooth-enabled compatible headset or helmet (sold separately), and you can make and receive wireless calls without having to remove your gloves or helmet. Safely stow your phone in a pocket or saddlebag, and still have the benefit of hands-free calling without diverting your attention from the road.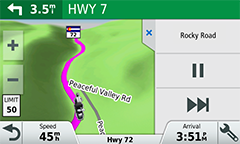 Enjoy Some Traveling Music
Want to take your own soundtrack along for the ride? Your zūmo also lets you control music and media from a compatible MP3 player or smartphone2, right on your touchscreen display.
Keep a Sharper Lookout with Rider Alerts
To enhance road awareness and encourage a safer ride, zūmo 395 provides helpful alerts4 for sharp curves ahead, speed changes, railroad and animal crossings, school zones and more. Plus, for longer rides, a fatigue warning3 will even suggest break times and potential rest areas worth considering after hours on the road. The zūmo Up Ahead feature lets you easily see places of interest and milestones along your route, without leaving the map view on your navigation display. Plus, Easy Route Shaping lets you add a point on the map to adjust your route, so you can ride through preferred areas or follow specific roads.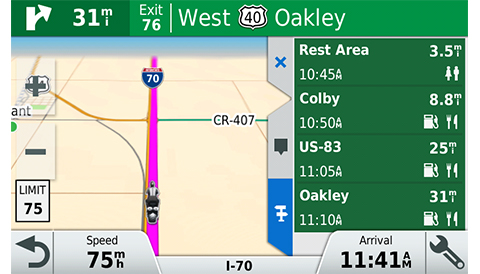 No More Running on Empty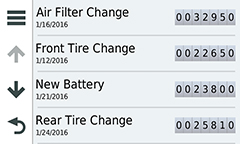 A built-in trip computer with digital fuel gauge comes standard with your zūmo 395. So it's easy to estimate how many miles you can ride before you'll be running on empty. Dynamic fuel stop alerts actually prompt you when it's time to refuel and even provide gas station location options. A helpful speed limit indicator lets you know when it's time to throttle down. Plus, a digital compass display and a database of motorcycle-specific points of interest (POIs) are on hand to help you locate cycle repair services, dealers and more. There's also a Service History Log on your zūmo to help you keep track of service dates, mileage and performed maintenance on your bike.
Navigation Tools
Lane assist with junction view displays junctions and interchanges on your route to ease navigation through complex transitions. A brightly colored arrow on the zūmo display indicates the proper lane position needed for your next turn or exit. There's also a TracBack® feature on zūmo that allows you to navigate the same route, in reverse, for your return trip.
Tire Pressure Monitoring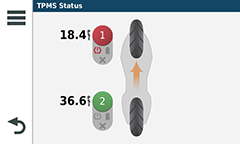 For added protection on the road, zūmo 395 is compatible with the Garmin Tire Pressure Monitor Sensor6 (TPMS, sold separately). One TPMS is required for each tire and will work with metal valve stems only. TPMS uses wireless technology to transmit the tire pressure data, letting you view it in real time right on your zūmo display.
VIRB® Camera Compatibility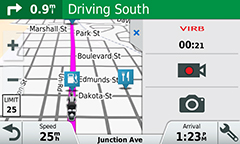 To record the highlights of your ride, zūmo 395 is compatible with the Garmin VIRB series of HD action cameras (sold separately). Remotely control VIRB – start and stop recording – all from from your zūmo display. It's easy and fun to record and relive every adventure.
Updates and Extras
Use Garmin Express™ to keep your zūmo 395 up to date. Garmin Express makes it easy to update software, transfer favorites to and from devices and install free custom vehicles and voices.
1Requires Bluetooth-compatible helmet, headset or smartphone (sold separately).
2Music and media control work with iPhone® 4S or later and iPod touch® 2nd Generation or later.
3The fatigue warning activates after longer periods of riding without any long stops along the route.
4Some rider alerts are not available in all regions.
5Not intended for automotive use.
iPhone and iPhone touch are registered trademarks of Apple. The Bluetooth® word mark and logos are registered trademarks owned by Bluetooth SIG, Inc.