The Tire Pressure Monitoring System (TMPS) is an electronic system that monitors your vehicle's tire air pressure and automatically alerts the driver when it falls dangerously low. The warning system has been legislated installing in all US vehicles after 2007 and a similar move is taking place gradually worldwide.

The advantages of TPMS benefit are as follows:
Driving Safety: Tire failure is the main cause of most car accident. Proper inflated tires are much more stable and provide greater safety to everyone on the road.
Extend Tire Life: Tire life decreases 15% in under-inflated condition. TPMS provides fast, accurate and real-time data to avoid damaging and extend tire life.
Reduce Fuel Consumption: Fuel consumption increase 10% in under-inflated condition. TPMS help reducing the cost of driving and the emission of CO2.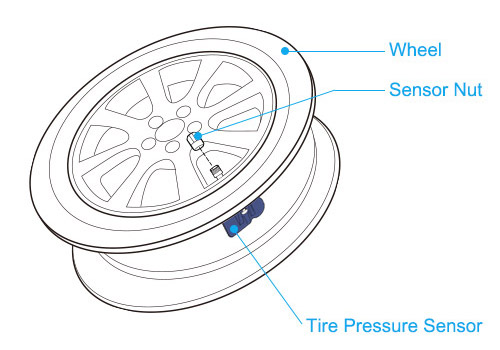 TPMS GTP 400KIT
nüvi 2567LM /55LM / 65LM / 4592LM / 57LM / 67LM / nüviCam / GDR C530
The Garmin GTP 400KIT is a tire pressure monitoring system designed for 4x4 cars and SUVs. This system's wireless TPMS TX Sensor, when installed on the tires, can collect tire pressure information in real time and transmit the information to the receiver, allowing users to see up-to-date data on their tire pressure status on the Garmin PND displays. In emergency situations, users will hear TTS voice reminders, thus ensuring safe driving!
---
Integrated Tire Pressure Monitoring Function (for nuvi 4592LM)
After the GTP 400KIT and GPS are installed, tire pressure detection will be automatically enabled once the car is started. Users can enter the tire pressure monitoring function.

Tap to enter the list of applications and select the "TPMS" function.

When detect any abnormal tire conditions, the system will warn you via TTS voice broadcast and a warning window will pop up.