Update on 2013/01/23
Malay Heritage Museum (1hr)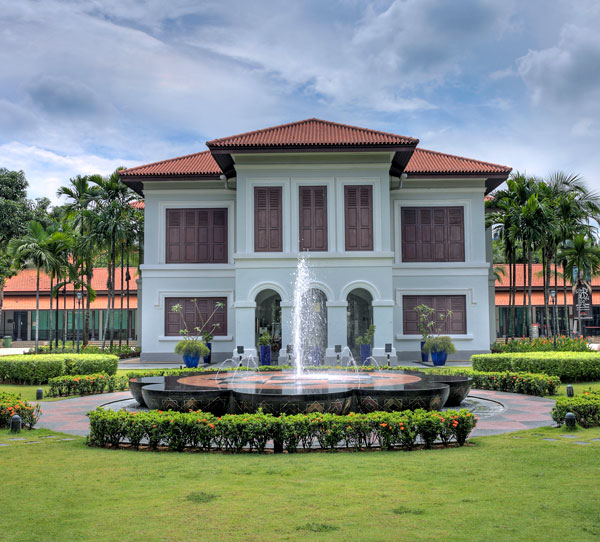 more >>
Culture Heirlooms
An important heritage institution for Singapore's Malay community, the Malay Heritage Centre stands grandly amidst the Istana Kampong Gelam and seeks to pay tribute to the role the community has played in nation-building both in the past, present and future.
13:00-18:00 Mon, 10:00-18:00 Tue-Sun, daily

Free Admission

85 Sultan Gate, Kampong Glam, 198501 (+65-63910450)
Bussorah Street (1hr)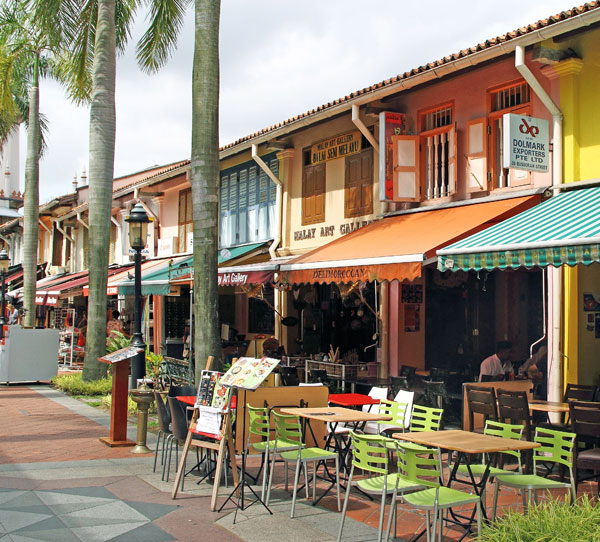 more >>
Heritage Gems
Bussorah Street is a national heritage site with an eclectic mix of retail experiences housed in 19th Century shophouses. Visit Jamal Kazura Aromatic, family-run for over 80 years, which boasts scents from Arabia, Egypt and Europe before skipping over to Children Little Museum to experience a 60s childhood through handmade toys.
Open 24 Hours, daily

Free Admission

Bussorah Street, Kampong Glam, 199436 (+65-67366622 Singapore Tourism Board)
Sultan Mosque (1.5hr)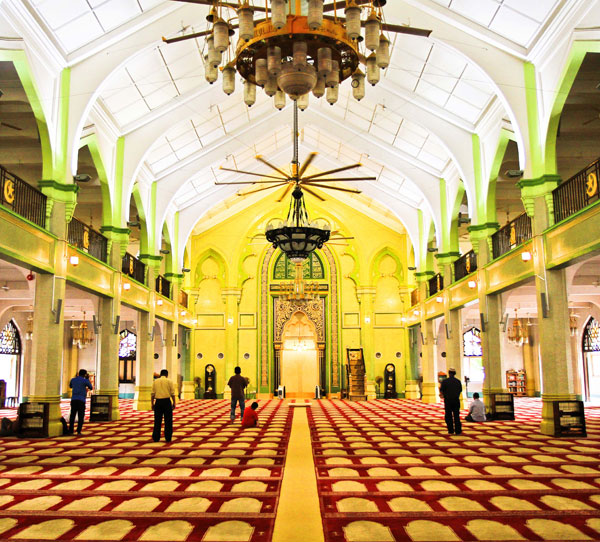 more >>
A Royal Tribute
Built by the first Sultan of Singapore in 1824, the Sultan Mosque is a rallying point for Muslims here. Its prayer hall has a capacity of 5,000 while the magnificent dome base is made of countless glass bottles collected by followers.
09:00-12:00, 14:00-16:00 (14:30-16:00 Fri), daily

Free Admission

3 Muscat Street, Singapore, 198833 (+65-62934405)
Amirah's Grill Restaurant & Cafe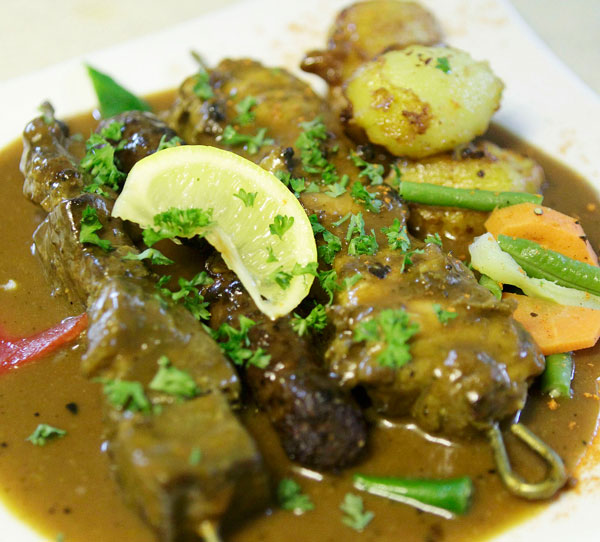 more >>
Mediterranean Flavours
Helmed by Egytian Chef Ashraf Mohamed, feel the warm mediterranean welcome in this cosy restaurant decked in middle-eastern ornaments. Favourites include juicy Chicken Kebabs, fresh Mixed Seafood Grill, warm Pita Bread with Lebanese Hummus and the refreshing Morrocon Mint Tea.
11:30-23:30, close on Hari raya Haji

Turkish Mixed TendKing Butter Prawn ($30)

14 Bussorah Street, #01-00 Kampong Glam Shop Houses, Kampong Glam, 199435 (+65-63441610, +65-62968577)
Rumah Makan Minang
more >>
Spice it Up
Hop across the street to Rumah Makan Minang for a taste of Indonesia. Originating in Padang, this cuisine comprises several small intense dishes complemented with fragrant white rice. Known for being spicy, be prepared for an exciting dining experience! Must-tried are the Rendang, Boncis Goreng Telur and Soto Padang.
08:30-19:30, close on Hari raya Haji and Hari Raya Puasa

BBQ fish ($5.00), Rendang ($3.00), Ayam Bakar Wing ($3.00)

18 & 18A Kandahar Street, Kampong Glam, 198884 (+65-62944805)
New Udon Thai Food
more >>
Aromatically Aroy
Cook your meal a la minute here. Though no udon is served, it is authentically Thai, just like its surroundings. Smouldering pieces of lard atop a concave grill, slap on more cuts of meat and seafood before rounding off with a hearty soup flavoured with juices off the grill.
11:00-21:00, daily

Seafood & vegetable platter (SGD39.00)

5001 Beach Road Golden Mile Complex #01-66B, Kampong Glam, 199588 (+65-67366622 Singapore Tourism Board)
Haji Lane (1-1.5hr)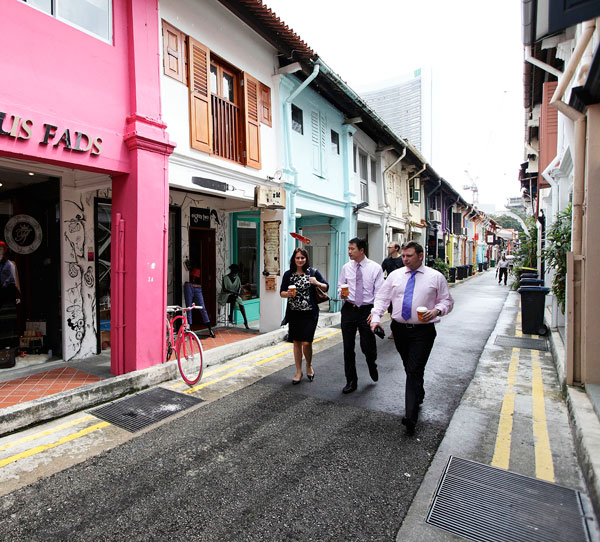 more >>
Colourful Life
The only lane in Singapore that applauds graffiti and street art is as unique as the boutique shops found here. It parades indie designers and whimsical retail concepts like The Blogshop – a retail platform for blogshops - and Shop and Pluck, a quirky furnishing store complete with an ice-cream parlour.
Open 24 Hours, daily

Varies

Haji Lane, Central, 189197 (+65-67366622 Singapore Tourism Board)
Bugis Village (1-1.5hr)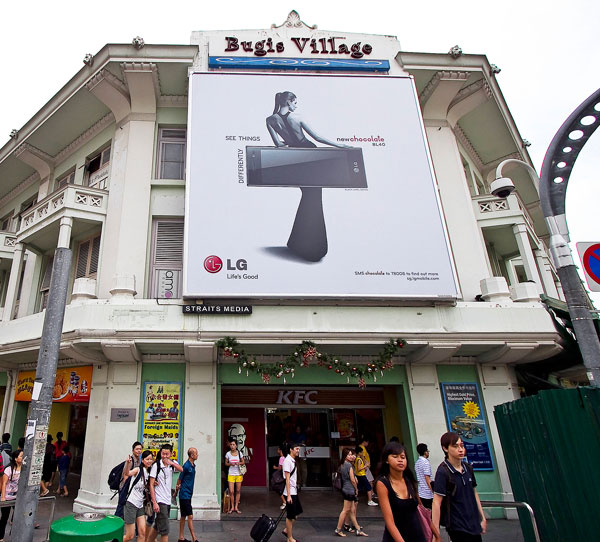 more >>
Street Shopping Paradise
Back in the 1950s, Bugis Village was famed for its notorious nightlife, night markets and push-cart stalls and hawkers. Today, it has transformed into Singapore's iconic street shopping destination with over 800 shops at last count. Grab clothes, accessories, souvenirs, bags and more for a steal here!
09:30-22:30 General business hours, close on PH

Meals (from $6++ ), Accessories (from $8)

229-251 Victoria Street, 151-166 Rochor Road, Bugis, 188023 (+65-68379021)
Hacienda Bar (1-1.5hr)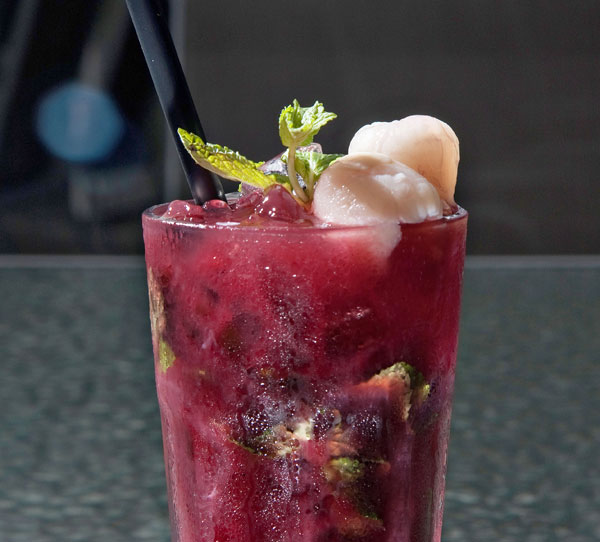 more >>
Spoilt by Nature
Escape into an oasis of lush foliage and unwind at this al fresco bar. Sip on freshly squeezed fruit juices or expertly-mixed cocktails, matinis, bubblies and draught beers. Gather buddies and catch live sports action on the big screen under star-lit skie while guest Djs spin some groovy beats.
17:00-01:00 (Mon-Thu & Sun), 17:00-02:00 (Fri-Sat & Eve of PH), daily

Blackberry lychee mojito ($16), Garden Breeze ($10), Choya Martini ($16)

13A Dempsey Road, 249674 (+65-64762922)
Dempsey Hill (1hr)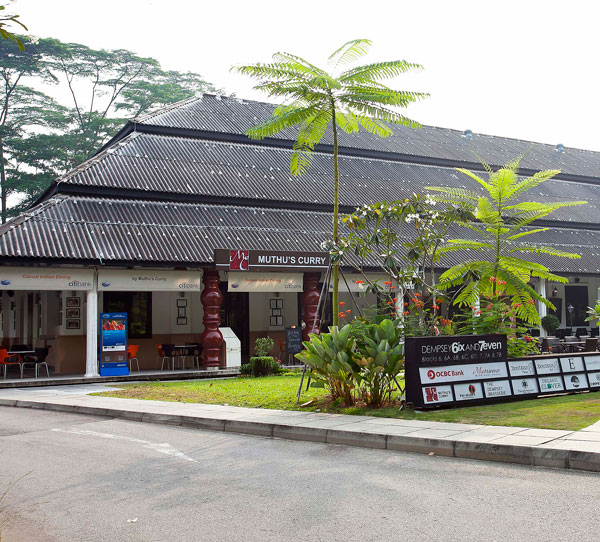 more >>
The Fine Life
Soak in the idyllic surroundings of these former British army barracks. A treasure trove of gourmet experiences and exquisite artwork, get lost browsing teak furnishing or take home oil paintings before sampling wine in a private cellar, indulging in fine dining or chilling over a few cold ones.
Open 24 Hours, daily

Free Admission

8D #03-01 Dempsey Road, Dempsey, 249679 (+65-67366622 Singapore Tourism Board)
Au Jardin Les Amis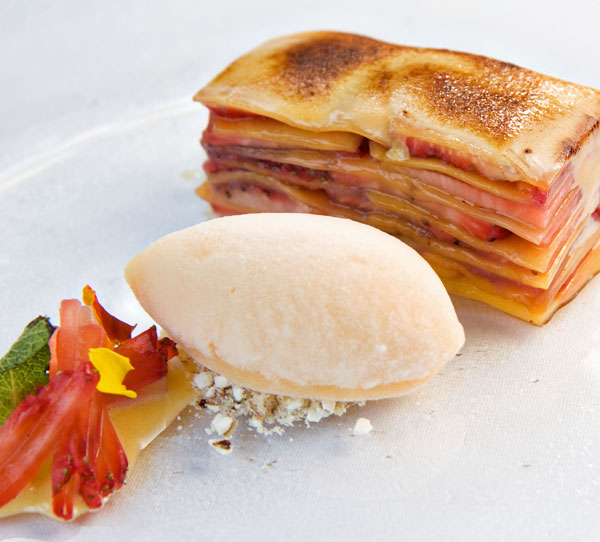 more >>
Bon Appétit
Nestled in picturesque Botanic Gardens, this fine dining restaurant serves French haut cuisine in a restored colonial residence. Under the baton of Executive Chef Ng Wei Han, gastronomic aficionados swear by Pan Roasted Frog Leg, Lamb Shoulder (sous vide) and exotic mango dessert, Man-Go-Pop.
12:00-14:00 Fri, 19:00-21:30 Mon-Sun, daily

Alaskan King Crab (SGD 90)

EJH Corner House, Singapore Botanic Garden Visitors Centre, Cluny Road, Botanic Garden, 259569 (+65-64668812)