Update on 2012/10/24
Sri Vadapathira Kaliamman Temple (0.5-1hr)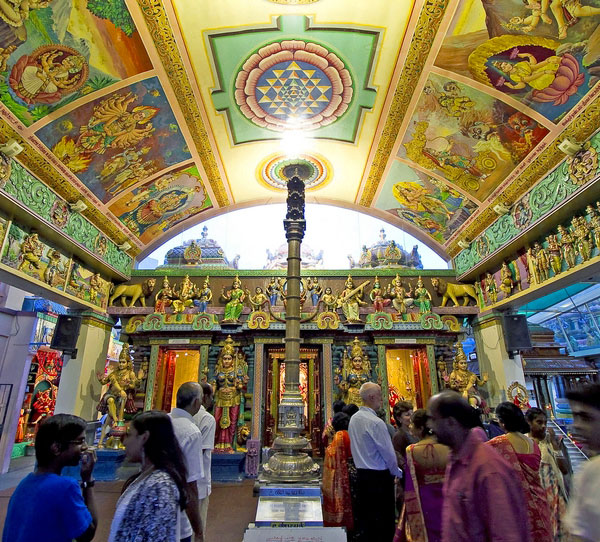 more >>
One of the Key Places of Worship for Hindus in Little India
This temple originated as a small shrine by the Tamils living in Potong Pasir to worship the Hindu mother goddess, Vadapathira Kaliamman. This main Hindu temple was founded by B. Govindasamy Chettiar, a pioneer labour contractor, philanthropist and an Indian community leader. It remains one of the key places of worship for Hindus.
07:00-12:30, 17:30-21:00, daily

Free Admission

555 Serangoon Road(+65-62985053)
Sri Srinivasa Perumal Temple (0.5-1hr)
more >>
Achieved National Monument Status In 1987
Built in 1855, this Hindu temple honours Perumal (Lord Vishnu). Officially opened 19th June 1965 by the first president of Singapore, the temple achieved National Monument status in November 1987. Renowned for its beautiful architecture, it also acts as the annual starting point for the Thaipusam festival.
06:30-12:00, 18:00-21:00, daily

Free Admission

397 Serangoon Road(+65-62985771)
Angullia Mosque (0.5-1hr)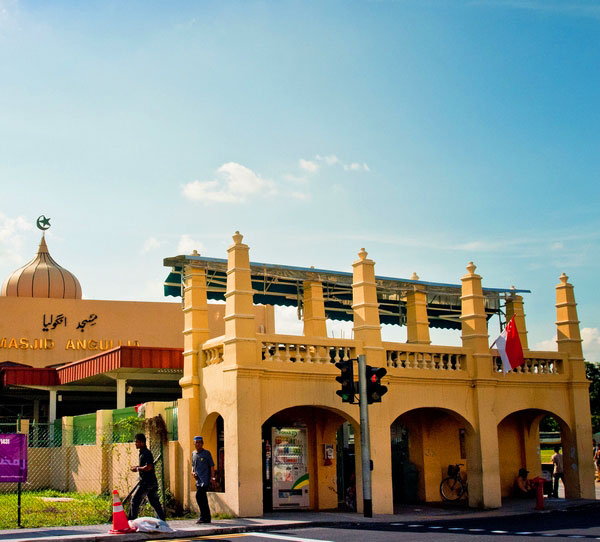 more >>
A Yellow Coloured Mosque Popular With Indian Muslim Devotees
Prominently situated along Serangoon Road, Angullia Mosque, a yellow two-storey building is very accessible to Farrer Park Station. A popular worship place for Indian Muslim devotees, local Indian eateries can easily be found nearby.
05:00-22:00, daily

Free Admission

265 Serangoon Road(+65-62951478)
The Banana Leaf Apolo @ Race Course Road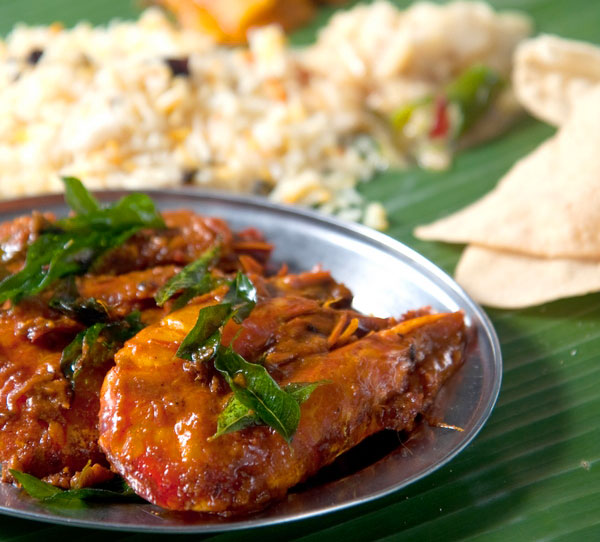 more >>
The Banana Leaf Apolo Is A Long Time Favourite
In Singapore, patrons of Banana Leaf Apolo partake the food served on a banana leaf since 1974. Looking for authentic South or North Indian cuisine, look no further. A traditional yet popular combination is the rice and 2 vegetable set with an unlimited "free flow" system.
10:30-22:30, daily

Fish Head Curry, Masala Chicken, Masala Prawn

54, Race Course Road(+65-62938682)
Komala Vilas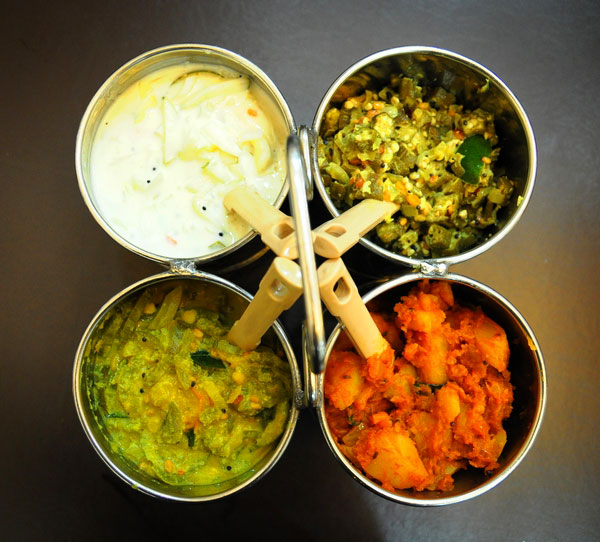 more >>
A South Indian Restaurant Serving Authentic Indian Food
In 1947, Mr. Rajoo came from India and set up Komala Vilas, a South Indian Restaurant serving authentic Indian Food on Banana Leaf. Foodies can feast on many South Indian dishes as well as a selection of dishes from the North to top it off with authentic desserts.
07:00-22:30, daily

Vegetable Briyani, Chappati Plate, Dosai Meal

76-78 Serangoon Road(+65-62936980)
Sri Veeramakaliamman Temple (0.5-1hr)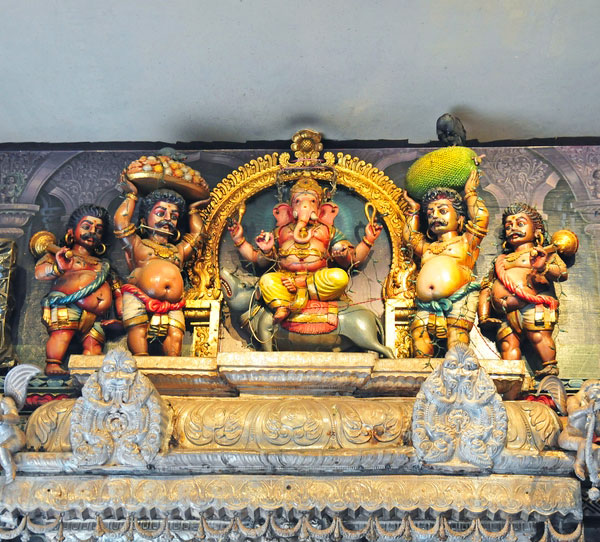 more >>
Check Out This Temple's Doors!
Dedicated to goddess Kali, one of the oldest temples built by early Indian settlers' worships Veeramakaliamman deity, an avatar of goddess Kali. Other deities like Lord Vinayagar, Sri Vishanathar are also worshipped. A huge magnificent door studded with temple bells greets you while the intricate interior walls have colourful sculptures.
05:30-12:00, 16:00-21:00, daily

Free Admission

141 Serangoon Road(+65-62954538, +65-62934634)
Little India (1-2hr)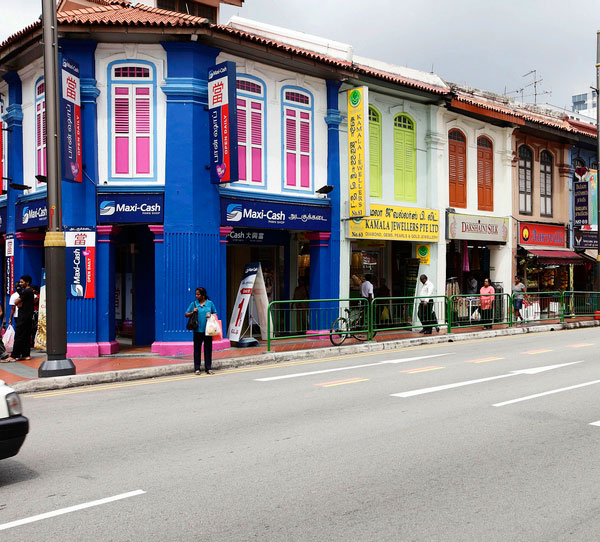 more >>
Little India with Big Surprises!
See roadside vegetables stalls, the vibrant colours from jasmine garlands, goldsmiths' shops, handicrafts, Bollywood music stores, restaurants and experience a buzz of activities. Good to explore Little India by foot, even though there is an open top HIPPO tourist bus which will zip you around.
Open 24 hours, daily

Free Admission

Serangoon Road(+65-67366622 Singapore Tourism Board)
Sungei Road Thieves Market (1-1.5hr)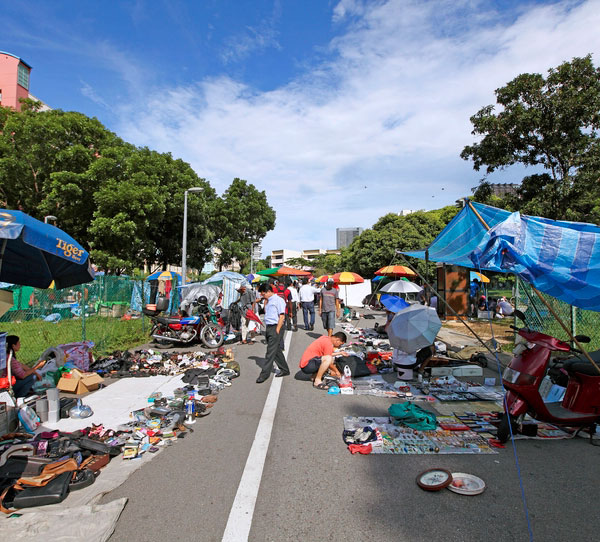 more >>
Fancy A Visit To The Sungei Road Thieves Market?
Head for the Sungei Road flea market or Sungei Road Thieves Market to see another face of Singapore. Its name originated from the olden days and many trinkets and long forgotten items are on display. Take a leisurely stroll and soak up the atmosphere where you might find a gem among the junk.
11:00-19:00, daily

Free Admission

Sungei Road(+65-67366622 Singapore Tourism Board)
Café Le Caire (0.5hr)
more >>
Chill out at Café Le Caire
Café Le Caire serves food richly coated with Egyptian flavours. Try delicious varieties of Middle Eastern dishes like Mezze, Foul Mesdammes and Kebabs. Wash it all down with the Karkadeh, Sharam El Shiek or Cleopatra. Smoking Shisha or water pipe filled with fruit based tobacco is also available here.
10:00-03:30 Sun-Thur, 10:00-05:00 Fri, Sat and Eve of PH

Mezze, Foul Mesdammes, Kebabs, Karkadeh, Sharam El Shiek, Cleopatra

39 Arab Street(+65-62920979)
Anandha Bhavan Restaurant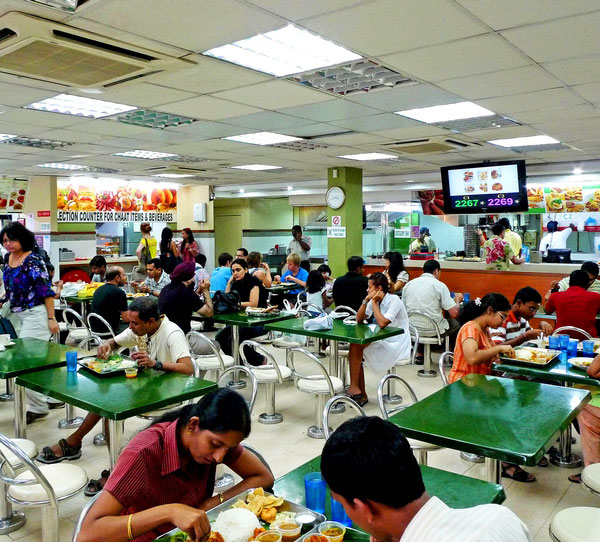 more >>
Popular With World Foodies Serves Up Authentic Indian Food
Since 1924, Ananda Bhavan, a popular Indian restaurant serves a range of vegetarian South & North Indian food, popular with foodies across the world. South Indian delicacies are Dosai (pan cake), Idli, Vadai. North Indian food like Paneer, Chole, Parata, Nan are served. The restaurant has three branches around Little India area.
07:00-22:00 Weekday, 07:00-23:00 Weekend

Dosai, Vadai, Paneer, Parata

58 Serangoon Road(+65-63965464)
Tekka Centre (0.5-1hr)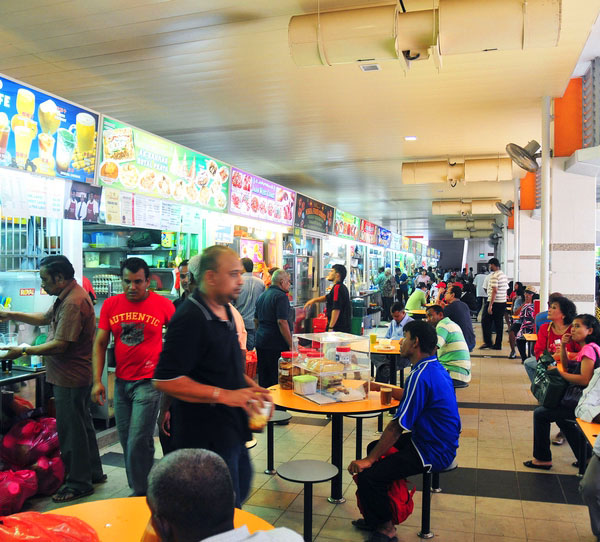 more >>
Get What You Want From Tekka Centre!
Tekka Centre, next to Little India MRT boasts a wet market whereas the food court on level two serves a range of Indian, Chinese, Malay food at affordable prices. A wide range of affordable Indian fashion & accessories is on level three while shops deal in Buddhist & Toaist paraphernalia, tailoring and beauty centers.
06:30-21:00, daily

Free Admission

665 Buffalo Road(+65-67366622 Singapore Tourism Board)