Update on 2012/08/29
Mount Faber Park (1hr)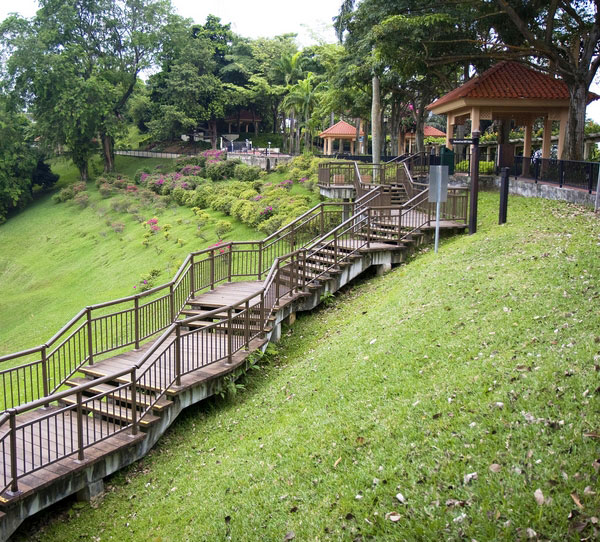 more >>
Garden On A Hill
Bird watch, dine and trek amidst beautiful greenery at one of Singapore's oldest parks, complete with lookout points which offer panoramic views of Singapore. Here, you will also find the Jewel Box – a concept retail building that functions as a cable car station and is also home to the historic Singapore Cable Car museum.
Open 24 hours, daily

Free Admission

Junction of Kampong Bahru Road and Telok Blangah Road, Singapore(+65-1800-4717300 National Parks Board)
The Jewel Box (1.5-2hr)
more >>
Fly High and High

Catch the first Angry Birds Cable Car at The Jewel Box, till December 2012. Have fun with interactive Angry Birds games at the Jewel Box and ride cable cars outfitted in scenes taken from this popular game.
Choose to bird-watch and enjoy the breathtaking view of the Singapore atop one of the oldest parks in Singapore. Next, refresh yourself in the "open concept" restrooms where you can enjoy an unobstructed view of Mount Faber before boarding the bejeweled cable cars that will dazzle all the way to Sentosa Island.
08:45-22:00 Cable Car, daily

Cable car round trip: adult (SGD29.00), child (SGD18.00)

109 Mount Faber Road, Singapore, 099203 (+65-63779688)
Brotzeit German Bier Bar & Restaurant @ VivoCity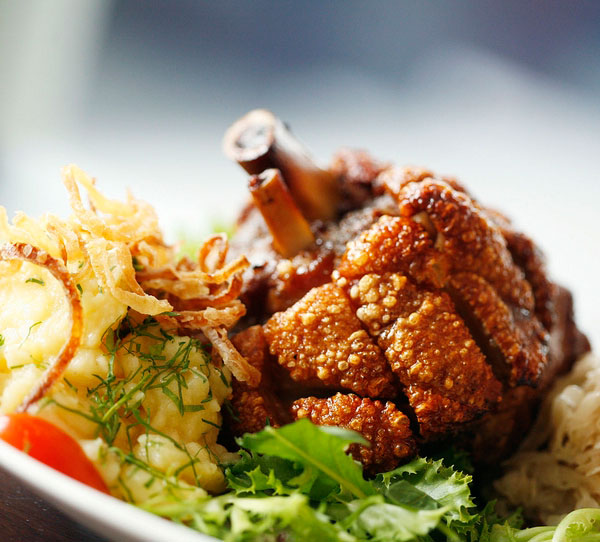 more >>
Zum Wohl!

Indoor seating is also available at Brotzeit German Bier Bar & Restaurant. All seats have a good view of Sentosa Island.
Enjoy Bavarian Cuisine with seafront al fresco seating and a glass of chilled German beer. Signatures include Nürnberger, the popular pork bratwurst, Currywurst or the crisp Pork Knuckles. Complement with imported Paulaner beers on draft or bottled beers such as the Kellerbier Anno 1417 or go alcohol-free with Paulaner's wheat beer.
12:00-00:00 Mon to Thur,12:00-01:00 Fri and Sat, 11:00-23:00 Sun

Pork Knuckles ($36.00), Draft Beer ($6.10++)

VivoCity, 1 HarbourFront Walk, #01-149/151, Singapore, 098585 (+65-62728815)
Thunder Tea Rice @ Food Republic Vivocity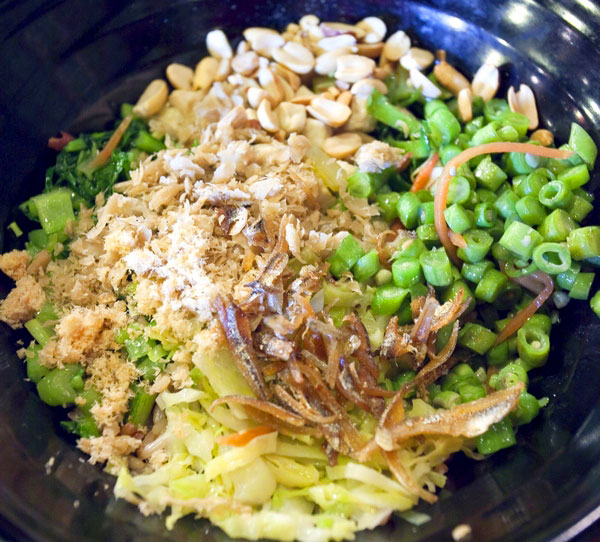 more >>
A Taste of History

Thunder Tea Rice contains tea leaves, herbs, sesame and nuts. Please note if you have nut allergies.
Originating from Qin Dynasty (221-207 AD), this Hakka dish was first concocted as an antidote to cure soldiers at war in historical times. Low in fat and cholesterol, it detoxifies the body, aids weight management as well as help one recover quickly from colds, flu, and treat joint pains.
10:00-22:00, daily

Thunder Tea Rice Set Meal, Lei Cha

1 Harbourfront Walk, Food Republic, #03-01, Stall 3, Singapore, 098585 (+65-62732209)
Merlion (0.5-1hr)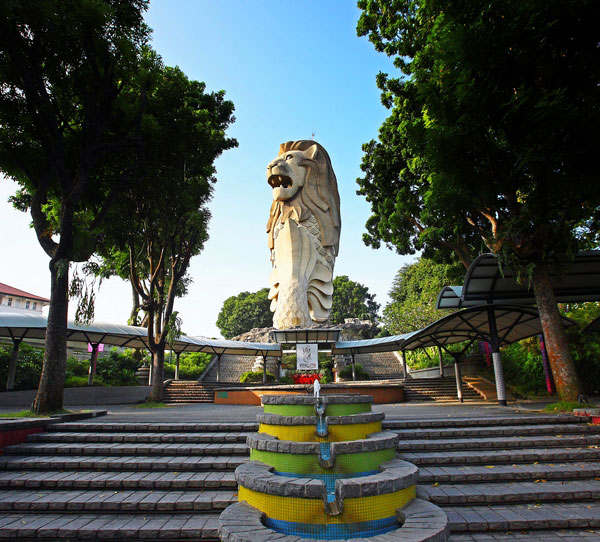 more >>
A Legend Comes Alive

At Merlion, venture up to the "mouth" and the "head" viewing gallery for a 360 degrees panoramic view of Sentosa, Singapore and surrounding islands.
Half lion and half fish, Merlion is an icon of the island. Its head represents the Malay name for the country, "Singapura (Lion City)", while the body represents the ancient name, "Temasek (sea town)" in Javanese. Step into the Merlion and be transported into a charming animated tale about the legend of Singapore.
10:00-20:00, daily

Adult (SGD8.00), child (SGD5.00), free for Merlion Walk.

Imbiah Lookout, Singapore(+65-1800-7368672)
Gogreen Segway Eco Adventure (1-1.5hr)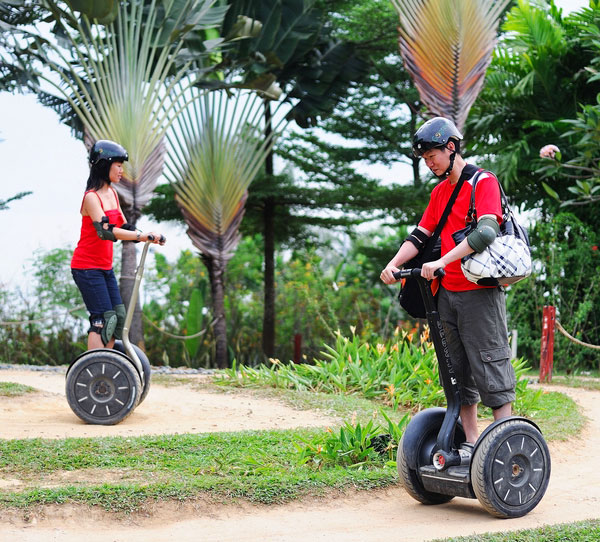 more >>
Zipping Around In Style
Have an island adventure in style, on a Segway - a motorised two-wheeled personal-transportation device. Manouever it through the twist and turn of the Go Green circuit or put your skills to the test at the obstacle course. Not your thing? Then use it for an effortless yet fun way to zip across Sentosa.
10:00-20:30, daily

Fun Ride (SGD12.00), Guided Eco Adventure (SGD38.00)

Beach Station, Singapore(+65-98254066)
Palawan Beach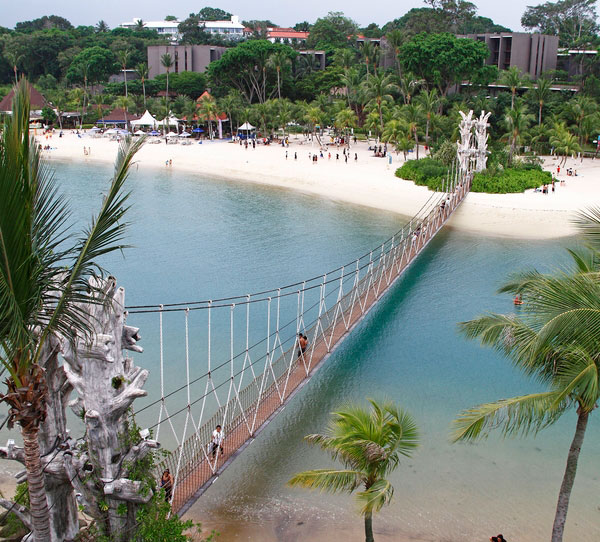 more >>
Family Fun Time

Catch animals such as birds, monkeys, reptiles, and parrots at the Animal and Birds Encounter show held at the Palawan Amphitheatre on weekends.
Popular with families, there is always something for everyone. Stroll across the suspension bridge and arrive at the southernmost point of Continental Asia standing atop an islet. For the adventurous, scale 3 stories up on either of 2 towers to enjoy a beautiful view of the beach and the Straits of Singapore.
Open 24 hours, daily

Free Admission

Palawan Beach Walk, Singapore(+65-1800-7368672)
Bora Bora Beach Bar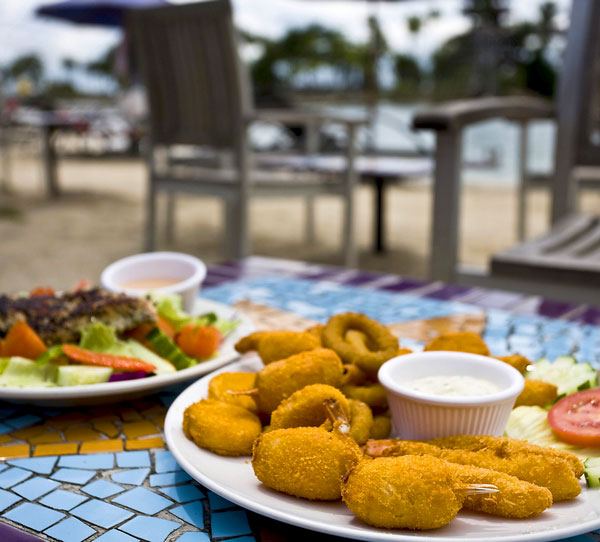 more >>
A Groovy Good Time

Bora Bora Beach Bar hosts a monthly, impromptu party with free food served. Invitation is by word of mouth. However, walk-in customers are also welcome to join in the fun.
Fill up on pizzas, burgers and finger food or savour specialties such as Seafood Platter and Grilled Chicken Salad at this family-friendly venue. For adults only, chillax with Bora Mojitos and the vodka-based Bora Fruitabulous. Choose to sit either under the cool shade indoors or on deck chairs with great views of South China.
11:00-21:00 Sun-Thur,11:00-22:00 Fri-Sat

Cocktails ($10.00++), Meals ($12.00++)

82 Lighthouse Beach Walk, Singapore, 099981 (+65-62780838)
Songs of the Sea (1-1.5hr)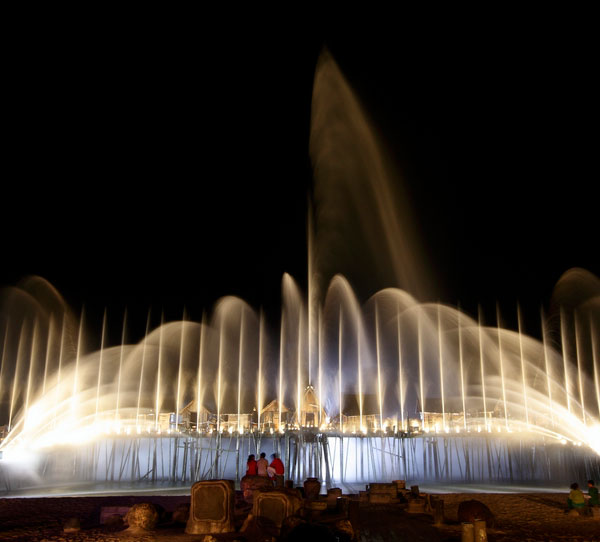 more >>
An Exciting Extravaganza

Bring your brolly in case the skies pour as it is a rain or shine event when you admire Songs of the Sea.
Be mesmerized by the theatrical extravaganza by the sea as you join Li and friends in their pursuit of saving an enchanted princess. Staged around a 120m kelong, pyrotechnics, water jets, brilliant lasers, special computer graphics and stunning flame bursts will thrill the audience.
19:40,20:40 (additional show at 21:40 every Sat)

Premium Seats (SGD15.00), Standard Seats (SGD10.00)

Beach Station, Singapore, 099981 (+65-1800-7368672)