Update on 2012/04/25
Queen Victoria Memorial Clock Tower (0.5-1hr)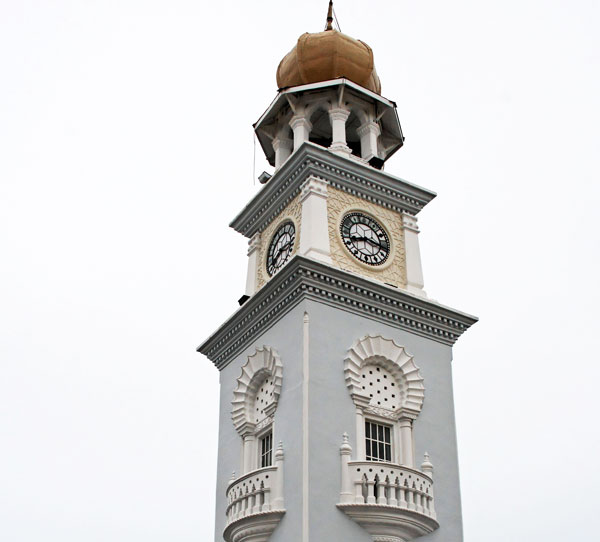 more >>
A Tribute to Honor Queen Victoria's Rule
It is hard to miss the famous landmark as it stands a majestic 60 feet tall. Although the building was commissioned by a Chinese philanthropist in mid 1800s, design is distinctly Moorish and it is said that the staircase stand as a log of the number of decades of Queen Victoria's reign.
Open 24 Hours, daily

Free admission

Lebuh Light (King Edward's Place), George Town, Pulau Pinang (+604-2620202)
Ais Kacang and Fruits Stall @ New World Park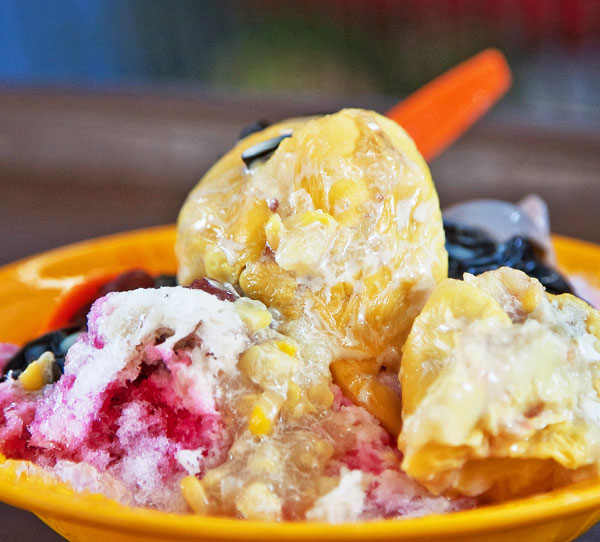 more >>
Third Generation Ais Kacang Owner
His grandfather and granduncle started the business and his father inherited it. Now, Mr. Lee Eng Lai and his siblings are still serving daily the same good quality ice kacang and fresh cut fruits to regulars and tourists alike. It can't get more traditional than this.
09:00-21:00, close during weekends

Papaya (RM1.00), Ais Kacang (RM 2.50)

New World Park, Lorong Swatow, George Town, Pulau Pinang (+604-2261199)
Kedai Kopi Ho Ping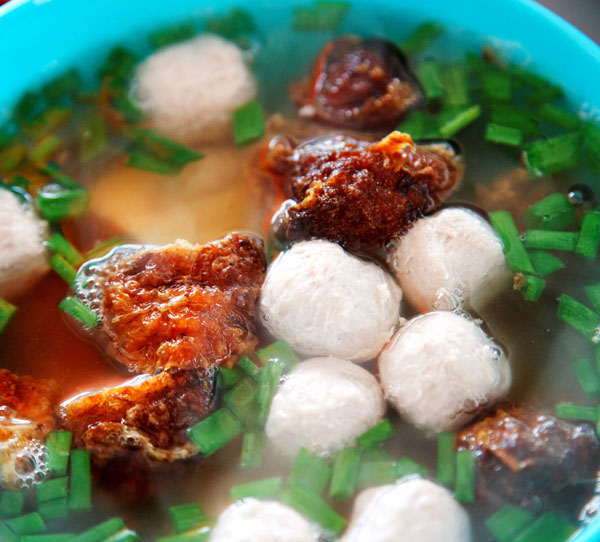 more >>
Old Coffeeshop Serving Penang Favorites

Be sure to go early before lunch crowd gets in Kedai Kopi Ho Ping or else it can be a 45 minutes wait for delicious food.
This coffee shop has existed since 1968 and eating here means that you will be spoilt for choice. There are so many famed stalls such as the only Penang beef ball noodles, piping hot pork porridge and crispy loh bak, just to name a few.
09:00-23:00, close on Tue

Char Kuey Teow, Beef Ball Noodle

Junction of Kampong Malabar and Jalan Penang, George Town, Pulau Pinang (+604-2622093 Penang Tourism)
Hokkien Mee @ Kedai Kopi Cathay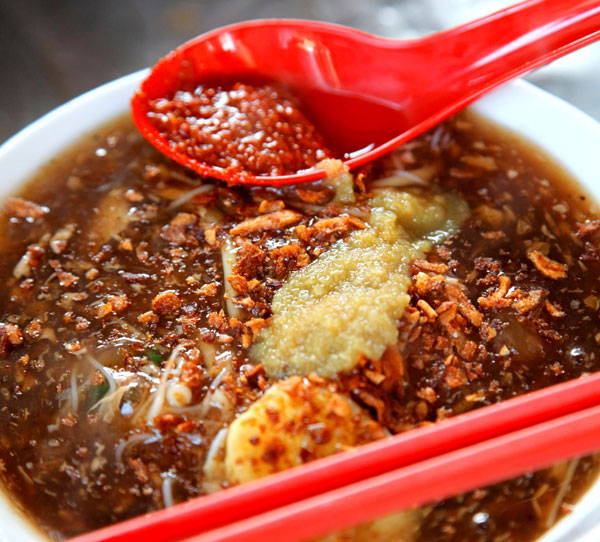 more >>
Spicy Prawn Noodles Hot Off A Street Stall

Chili sauce will be placed on a spoon when Hokkien Mee is served, customers can adjust the degree of spiciness according to your preference.
Only in Penang is this dish known as Hokkien Noodles. Your choice of noodles is served in a spicy shrimp and pork soup with a slice of hardboiled egg, bean sprouts, water convolvulus, pork slices and shrimps. It is usually eaten with sambal belacan for richer flavour.
08:00-17:00, close for half day on Sat and full day on Sun

Hokkien Mee (RM2.50), Hokkien Mee + Bah Kut (RM3.00)

142 Jalan Burma, George Town, Pulau Pinang (+604-2622093 Penang Tourism)
Penang State Museum and Art Gallery (1.5-2hr)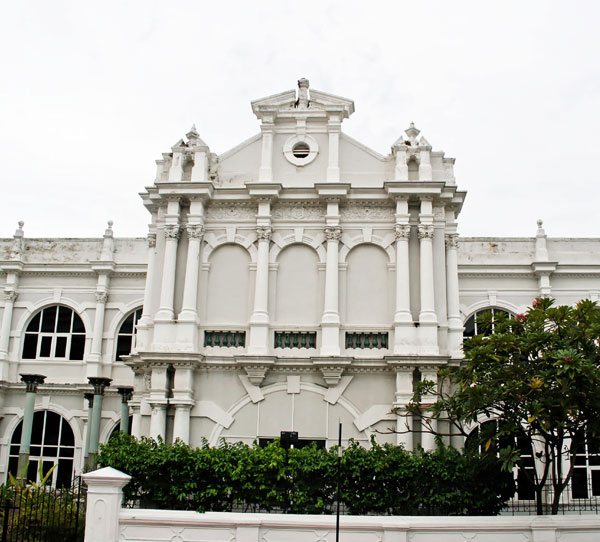 more >>
A History Lesson Of Penang Within Its Wall
Once it was a school but today, the building architecture is a tribute to history. Yet, within its walls, more awaits those who seek to know the early and aged Penang, when things were not so modern and life was simpler but rich in tradition, art, culture and distinctly regal.
09:00-17:00, close on Fri and PH

Free admission

Dewan Sri Pinang, Light Street, George Town, Pulau Pinang (+604-2613144)
Teochew Temple (Hang Kang Kah Meow) (1-1.5hr)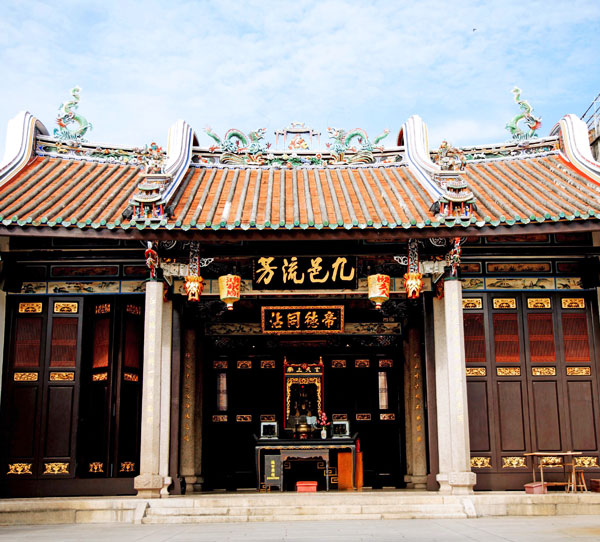 more >>
The Community Heart And Pride Of Penang Teochew Clan

Teochew Temple was built in 1870 with only 2 halls at its beginning, and a third hall was added in mid 20th century. While entring Teochew Temple, please take off your shoes.
The pride of Penang Teochew clan, this temple was recently restored to its former glory in recent years. The intricate details of its wood and stone structures are amazing given that all the details work were done by hand alone.
09:00-17:00, daily

Free admission

127 Chulia Street, George Town, Pulau Pinang (+604-2615629)
Assam Laksa @ Cecil Market Food Court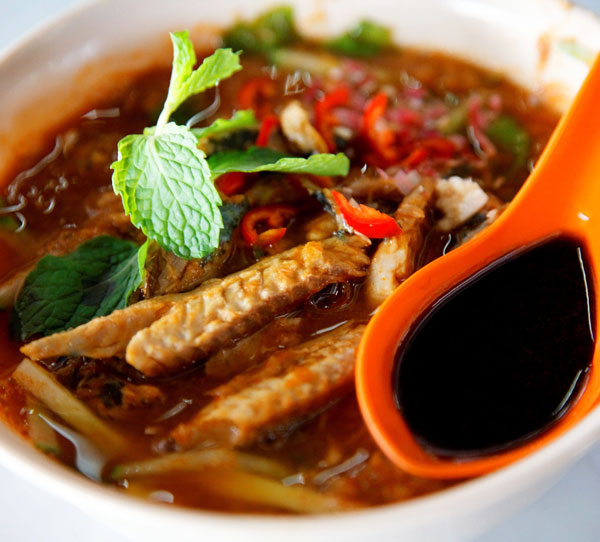 more >>
Spicy Tamarind Dish Dubbed Penang Laksa
Assam Laksa is a Peranakan recipe that Penangites claim as their heritage and so have named the dish - Penang Laksa. And all over the island, this street food is readily available. This stall at Cecil Market Food Court has been featured as one of the famous assam laksa.
13:00-19:00, daily

Laksa (RM2.30++)

Lot M2A, Lebuh Cecil Market Food Court, George Town, Pulau Pinang (+604-2622093 Penang Tourism)
Jelutong Hot Puthu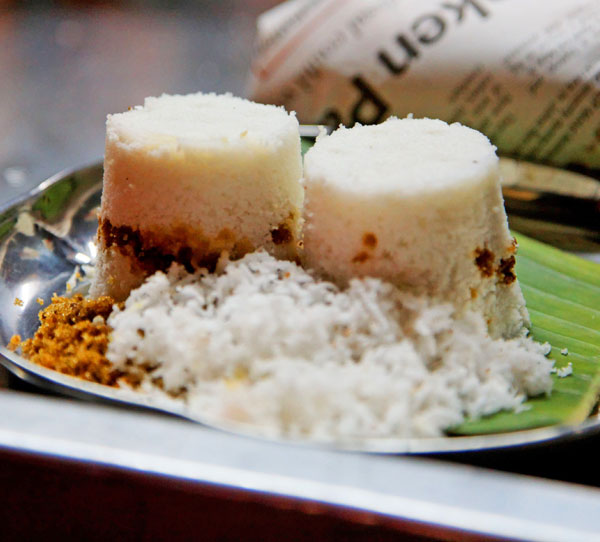 more >>
Puthu Bamboo And Puthu Piring - Almost Extinct Food Form

When puthu is eaten, it is usually added with brown sugar and fresh coconut gratings to enhance the flavor. It is best to eat when hot.
The rice flour cakes or "Puthu" comes in three main forms - Puthu mayam, Puthu Piring and Puthu Bamboo. In many parts of Malaysia, finding Puthu bamboo (steamed rice flour in a cup) or Puthu piring (steamed rice cakes filled with palm sugar) is becoming less.
17:00-22:00, daily

RM2.00 for 3 pieces

82 Penang Street, George Town, Pulau Pinang (+604-2622093 Penang Tourism)
Tuai Pui Curry Mee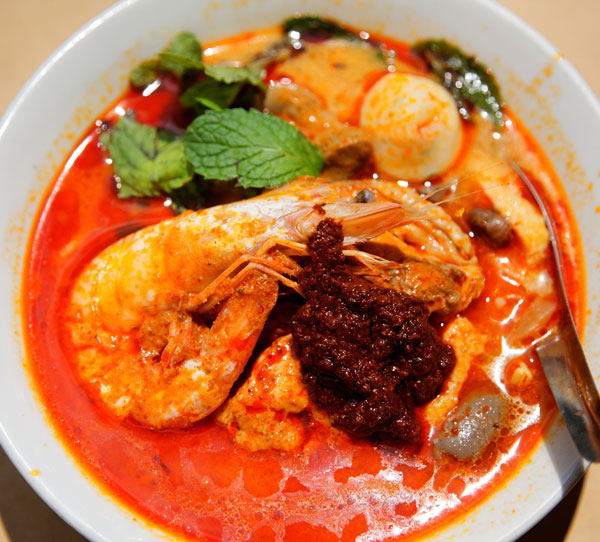 more >>
Personalised Curry Laksa Mee
This famed curry laksa noodle is an old fashioned authentic as it has coagulated blood squares, cockles, cuttlefish and tofu pok. Not only that, one can customize it with the addition of extra ingredients such as chicken wings, fish balls, chicken gizzards, prawns and more.
09:00-18:00, close on Wed

Curry Mee (RM2.80++)

No. 49N Weld Quay, George Town, Pulau Pinang (+6016-4953793)