CSR campaign launched to unite divers across Asia to support marine research for the conservation of marine megafauna and their habitats and Garmin expands the Descent Mk2 series lineup with the new Descent Mk2S
Malaysia, 15 June 2021 — Garmin today announced the launch of a CSR campaign that will unite divers and every diving enthusiast across Asia to support non-government organization Large Marine Vertebrates Research Institute Philippines' (LAMAVE) efforts in marine research for the conservation of marine megafauna and their habitats in Southeast Asia.
Starting from June, through a dedicated The Descent Mission campaign, people will have the opportunity to become more aware of marine ecology though the photography records from the campaign and LAMAVE research methods.
"Garmin and LAMAVE share the same ethos that science-based technology, people and knowledge is key. We believe that great things happen when we can work together." said Mr. Scoppen Lin, Director, Garmin Asia.
"As conservationists who use both scuba diving and freediving to study marine animals, we understand how valuable information from the diving community is and how important it is to work together to protect the marine environment. We are thrilled to be collaborating with Garmin to encourage divers to report marine biodiversity across Asia as well as utilize the amazing technology that Garmin continues to develop. To date our team have recorded over 10,000 encounters with marine megafauna using Garmin technology and we can't wait to see the impact this campaign will have on reporting marine wildlife across the region." – Jessica Labaja, President, LAMAVE.
Kohei Ueno, an international award-winning photographer from Japan, specialising in freediving and underwater photography. He is also an avid scuba diver and a freediving instructor based in Singapore. His underwater photography work has won some of the most prestigious awards including IPA, Sony World Photography Awards, Redbull Illume, and TIFA.
Sirachai Arunrugstichai, an internationally acclaimed Thai conservation photographer, specializing in marine conservation issues
Ariana Agustines, Vice President of Large Marine Vertebrates Research Institute Philippines, Whale Shark Project Leader and National Geographic Explorer
Martin Zapanta, President of AIDA Philippines and founder of the Philippine Freediving Team, Martin is the top freediver in the Philippines and national record holder in four freediving disciplines: CWT, FIM, DYN, STA
Marco Chang, Taiwan-based internationally acclaimed underwater photographer with over ten years of experience and over 40 awards
Kim Sung Soo, freediving instructor and underwater photographer and freediver in Korea who set a Korean record in Red C Cup in Egypt in 2016
Nat Sumanatemeya, one of the first professional underwater photographers in Thailand

Expanding its next generation suite of dive products, Garmin presents the Descent Mk2S, a smaller form factor and striking new colors connected watch-style dive computers, designed with a 1.2-inch color sunlight-readable sapphire display, a 43mm case and interchangeable QuickFit bands in silicone, leather, metal and nylon. It continues to deliver a full-featured dive computer underwater and advanced multisport features above water for both your worlds.
The Descent Mk2S also supports multiple dive modes for single and multiple gas dives (including air, nitrox, trimix and up to 100% O2), gauge, apnea, apnea hunt and closed-circuit rebreather. Mk2S features an underwater 3-axis compass and displays depth, dive time, temperature, NDL/TTS, ascent/descent rates, gas mix, PO2, N2 loading, decompression/safety stop information, time-of-day, and more.
Above water, the Descent Mk2S doubles as a premium multisport GPS smartwatch with multi-GNSS support6 and enhanced wrist-based heart rate monitoring1, animated workouts plus multiple sports profiles including a newly added Surf profile. Users can also monitor their health throughout the day with all-day health monitoring features including Pulse Oximeter4 for blood oxygen monitoring for enhanced Sleep Score, Stress Level and Body Battery monitoring.
Other smartwatch features include notifications for calls, texts and calendar alerts and more2 right on the wrist, music storage with compatible service support3. The Descent Mk2S has a battery life of up to seven days in smartwatch mode and up to 30 hours in dive mode.
Store and review dive data for up to 200 dives on the watch or view them all on the companion new free Garmin Dive™ app5, which automatically provides a detailed analysis of each dive activity including max depth7, bottom time and a map of surface entry and exit points8. Using the app's Explore tool to search through more than 2,700 dives sites from around the world, divers can plan their next trip by viewing these popular dive sites that have been rated and reviewed by other users, with helpful information like weather conditions and dive logs from that specific location. In app, keep track of the gear being used for each dive. Easily tag equipment, wetsuit and fins, and refer back when preparing for future trips.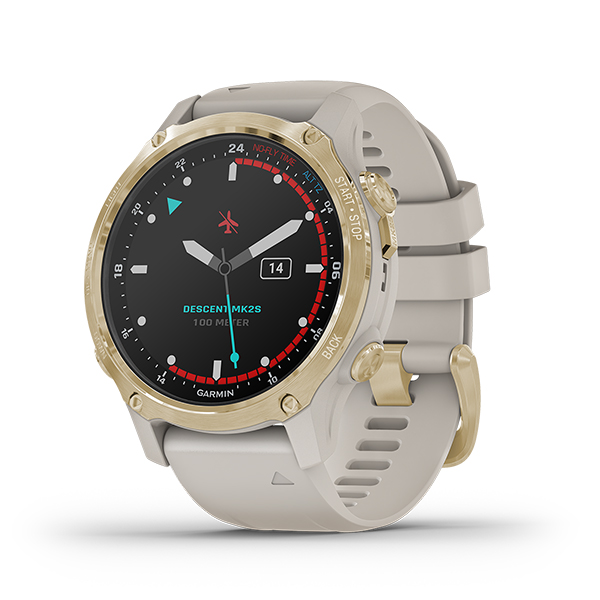 Pricing and Availability
The Descent Mk2S is available for pre-orders today at RM 4,899 at Lazada, Shopee, AECO e-store all Garmin authorized retailers.
Engineered on the inside for life on the outside, Garmin products have revolutionized life for adventurers, athletes, and outdoor enthusiasts everywhere. Committed to developing products that enhance experiences and enrich lives, Garmin believes every day is an opportunity to innovate and a chance to beat yesterday. For more information, visit Garmin's virtual pressroom at garmin.com.my/news/pressroom/, or follow us at facebook.com/GarminMalaysia, instagram.com/GarminMalaysia or youtube.com/GarminMalaysiaAsia.
Go to 【Pressroom List】